From Canada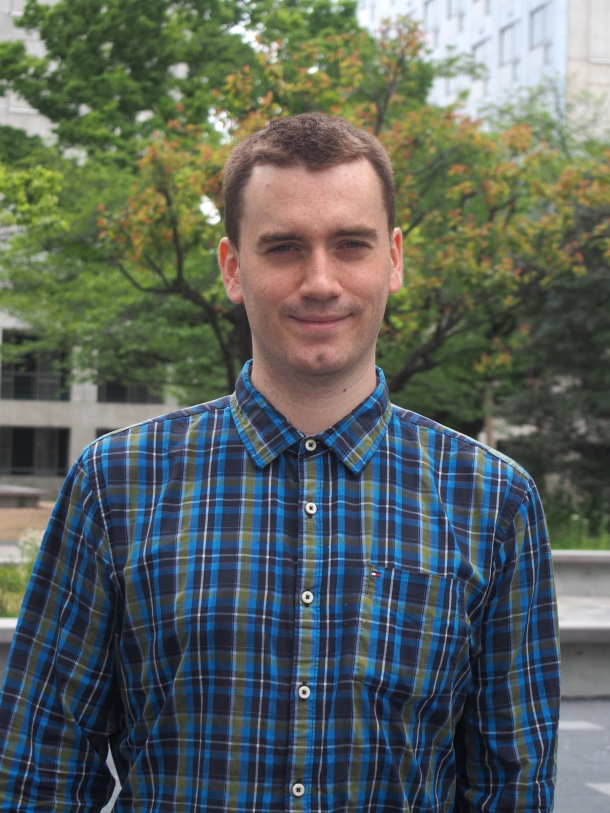 Name
TAILLON Gabriel

Country/ Region of Citizenship
Canada

Graduated from
Ecole Polytechnique Montreal

Department
Department of Applied Mechanics (Doctoral)

    Privately-financed Student

How did you find out about Waseda University?
I found to meet my supervisor in a conference and he talked me about Waseda University and what he was doing at the university.  I thought it was very impressive.  When I first came here, I was already impressed after he talked to me, but when I saw the university I was even more impressed that how much different people work and this is a really serious university.
Why did you choose Waseda University?
Because of the opportunity to study phenomena what I'm interested in, specifically I'm interested in bubble dynamics.  I think he has many connections with industries and produces cutting edge research.  So I think he is not the only teacher who is doing cutting edge research, but he is really interesting for my domain.
Actually it was really complicated to find expertise in my domain.
How did you get information for our program?
I found everything online.  There were many resources about Waseda University such as how to apply for visa, accommodation and graduate studies etc.  I found mostly everything on Waseda website concerning laboratories as well when I was back in Montreal.  That's why I could communicate with the professor and submit necessary documents to you.
Did you have any concerns before coming to Japan?
My concerns would be about living and having an apartment in Japan.  I think I found arrangement which is good for me as a temporary option since I live in a share house and share a room with another person.  But I would like to have my own apartment because I'm now used to living in a share house with the Tokyo life style.  Although I think the rent is more expensive than where I used to live in Montreal, I would like to have my own place.  The share house gives us all furniture such as a bed, a refrigerator, stoves etc. which is really convenient for me, but now I want to see if I can really live by myself in Tokyo.
I studied Japanese at Montreal University and I thought the language was not a concern because science would be mainly in English.  But I was surprised that many books and articles were published only in Japanese.  So I'm now studying Japanese by myself and using the books recommended by the Center for Japanese Language at Waseda University.  Because I'm actually focusing more and on trying to do research, my Japanese skills are suffering a bit since I'm not studying as fast as I could be.  If I could read and speak Japanese, it actually helps my research and I communicate easily with my colleagues and read technical books.
Have you had any difficulties when you started a new life here?
As I said, I was scared of moving into a new country without any furniture since I decided to live in a share house when I arrived.  For other concerns, I realized that I need to study Japanese more after I arrived and I started to buy books of Japanese and studying by myself.  It takes many efforts to learn.
For the rest, there is no problem with food or cooking because I live in a share house.  I think I can talk to people in Japanese and ask them "where is this restaurant?" or "where is this place?" etc. if I get lost.  And I was also used to using trains which are very useful to know how to orient yourself in Japan.
How is your life in Japan and Waseda?
Since I came here, I bought a bicycle and now use a bicycle parking which is very useful.  And I also registered to the training center on Toyama Campus.  These two things are really useful to me as I can train cheaply.  For the Japanese language, I use the Japanese syllabus to know what the requirements are and which books to buy so that I can study by myself.  So I think I'm taking full advantage of living as much as I can.
What do you do in your free time?
Most of the time, since I live in a share house which has 20 people, what I do is just coming home and buying a couple of beer and then talking to people at the share house.  It's more convenient that way because I don't have to go out and there are people I can talk with and I'm not lonely.  It takes the least amount of time to have social life.
And I do cook everything by myself.  Normally what I do is that I cook a meal enough for the next day such as grilled vegetables and cooked rice when I arrive at home.
I did a bicycle trip to Yokohama one time.  Sometimes I go out to restaurants and Izakaya (Japanese-style bars) with my share house mates.
Although I sometimes read books, now I do that really really less than working and drinking with other people at my share house.
I have been to Shizuoka, Nara, Nagoya, Osaka, Hiroshima, Fukuoka and Kitakyushu etc. on my trip before I came to study here.  But I really want to go to Sapporo and Hokkaido etc., the North part of Japan.
How are the relationships with your supervisor and lab members?
I think the relationship with my supervisor is mostly serious when we are in the laboratory but he is really helping me to calm down my enthusiasm and driving me to work my best.  Other than that, he is very funny when we go to drink together.
With people in my lab, there is actually a problem with communication.  I can't speak well Japanese and my lab mates can't speak English well.  Whenever they talk about technical staff, I don't understand even though I try to talk to them in Japanese.  But they help me all the time if I ask them questions.  I really have to put efforts in Japanese but I'm neglecting it.
Outline of the research
I want to research the cavitation erosion of hydraulic turbines.  Cavitation is defined as the apparition of vapor bubbles under a low pressure, and these bubbles' implosion cause major erosion of hydraulic machines.  I will use software tools, numerical computations, as well as experiments on hydrofoils and turbomachines to gather information on the cavitation and cavitation erosion phenomena.  I will use my studies to bridge a gap I have noticed between the studies of cavitation, which take place at more of the 'micro-scale', with the erosion of turbomachines, which is observed at the 'macro-scale' by companies and researchers.
What is your career goal after your degree completion?
Oh, I have to think about it.  I'm now just happy to be here but I have no idea.  I don't even know if I want to go back to Canada or if I want to go to Europe or another country in the world after I finish.  And I learnt that you have to search for a job one year before you finish in Japan.  So if I want to stay in Japan, I have to decide next year.  But for now, I haven't decided yet.  Maybe I want to continue my research or maybe I want to work in a company.
Short message to the prospective students
in English
Waseda campus offers many advantages: I particularly like the bicycle parking, because I commute this way, as well as the cheap training center.  That is just naming the services offered that are useful to me, there are many more activities to be enjoyed here, including many aiming to promote the integration and celebration of everyone's culture.  Also… the expertise is here.  I came here because I met my Professor in a Scientific Conference in Lausanne, and I am constantly amazed at the networking taking place here with the industry (Mitsubishi, Voigt to name a few) as well as other professors in Waseda.  I found a nice place to study, a place of serious scientific inquiry I am enjoying being in.
in French
Waseda c'est l'endroit où faire des recherches sérieuses. Mon professeur collabore régulièrement avec d'autres professeurs (qui visitent le laboratoire, pour y travailler, plusieurs fois par semaine), mais aussi avec un grand nombre de partenaires industriels incluant Voigt, Mitsubishi heavy industries et des bureaux gouvernementaux. Les laboratoires sont bien fournis, mais aussi bien rangés! Que demander de plus! Non seulement, mais personnellement, le campus m'accomode très bien: des parkings à vélos sont disponibles gratuitement, me permettant de faire le voyagement en mode santé et les assurances associées sont fournies à rabais par la Co-op universitaire. L'inscription au Gym est aussi ridiculement peu cher. Et je ne mentionne que ces aspects car ce sont ceux qui sont utiles à ma personne… mais Waseda en offre bien plus! Recommandé.
Archives