From October 18, 2019 to December 28 2019, Ms. Mamiko Kato, a doctoral student of sport sciences at Waseda University, visited KU Leuven in Belgium as a visiting student through the Top Global University Program. Below is a report from Ms. Kato.
With the financial support from the Health and Sport Sciences model unit of the Top Global University project, I stayed in the Faculty of Movement and Rehabilitation Science in KU Leuven, Belgium, as an exchange student for 71 days. Throughout the stay, I have conducted and progressed a collaborative study in an interdisciplinary environment, made some incredibly valuable connections, and developed cultural sensitivity. In this report, the following topics will be introduced: the excellence of KU Leuven, life in KU Leuven, broad research communities, and advantages of visiting Leuven.
Leading European Research University
KU Leuven, Belgium's largest university, was founded in 1425. KU Leuven has rose to Belgium's highest-ranked university and one of the most prominent universities in Europe. The university provides high-quality education for students, presents world-class research, and makes cutting-edge innovation. According to a report by Reuters, KU Leuven has been ranked as the most innovative university in Europe for 4 consecutive years since 2015. As internationalization is a key policy of the university, KU Leuven has partnership agreements with a variety of universities and research institutions around the world. Also, KU Leuven offers a wide variety of programs in English. These initiatives boost international mobility of resources and intensive research cooperation.
Life in KU Leuven
KU Leuven is located in Leuven, a Dutch-speaking region of Belgium. Facilities, such as campus for each faculty, libraries, and sports gyms are scattered around the town. Each building is unique, sophisticated, and has a rich history. Especially, the central library is one of the most beautiful historical landmarks in Leuven as well as the university. Although it had suffered heavy bombardment in both world wars, it has been reconstructed by and for the university. Also, there is a castle, namely Arenberg Castle, on campus. The castle itself is used as the main building of the Faculty of Engineering and students can take lectures there.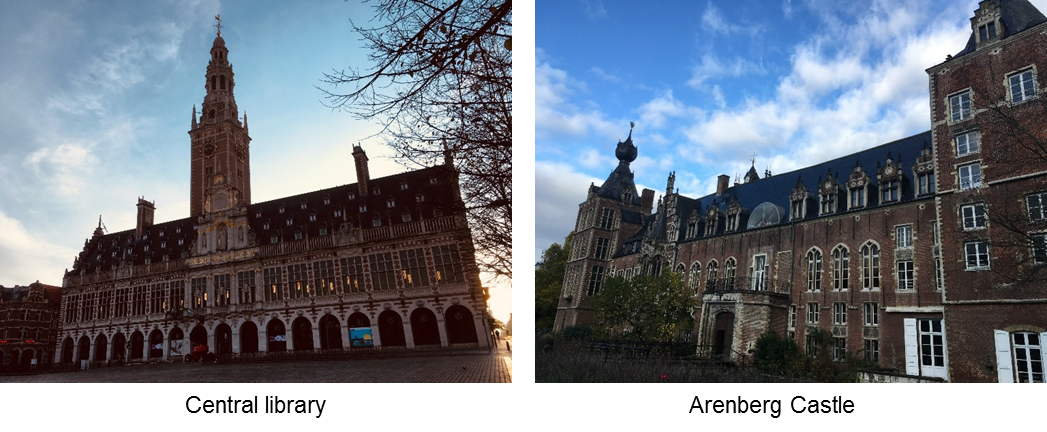 In the Faculty of Movement and Rehabilitation Sciences, I shared the office with 2 Ph.D. students in gymnasium. I was impressed at their critical and research-oriented attitude in the meeting and laboratory. Our research topics were totally different for each other, but this opportunity made me realize the difficulties to explain my research aim and its significance to people who do not have any specific knowledge. Also, we shared the way of thinking about research, life, and culture during lunchtime or breaks. Those experiences made me reconsider what my future goals would be and how to achieve it, in addition to knowing the diversity of the culture, language, and thoughts across countries.
Broad research communities
In KU Leuven, a considerable number of collaborative studies have been conducted beyond faculties. This interdisciplinary environment is one of the strengths to be a comprehensive university and to produce intensive research collaboration. In fact, my main aim during the stay was to learn a variety of methods to predict batting results from baseball tracking data accurately. Prof. Martine Thomis, my local promotor, suggested how to make progress step-by-step and taught me about parametric model-based approaches. Besides, the data that I had was high-dimensional and complex, so that Prof. Jesse Davis in the Faculty of Engineering Science, an expert in machine learning and Artificial Intelligence, gave me new insight for the data analysis. I would like to express my sincere appreciation to Prof. Martine Thomis and Prof. Jesse Davis for their support and invaluable advice.
Heart-warming and cozy atmosphere in Leuven
 A 15th-century gothic city hall in the Grote Markt is the most symbolic landmark of Leuven. There are many restaurants and cafes along the streets of the city hall. Many people enjoy time there in the evening with the beer of Stella Artois, which has been brewed in Leuven. In a Christmas season, a winter garden was made at the Grote Markt. The city hall was also decorated with beautiful Christmas lights, attracting many visitors. Leuven's Christmas market had beautiful shops and a very cozy atmosphere around the central library. Visitors sipped a delicious hot chocolate or some mulled wine in the market and celebrated Christmas with their family, colleagues, and friends. Unlike another Christmas market in a very busy city, the heart-warming and cozy atmosphere in Leuven was totally different from the one I would feel in Japan.
Easy access to other countries from Leuven
In Belgium, domestic and international train tickets are affordable, especially during weekends and holidays, in addition to getting student discounts. Using these systems, I have visited a lot of places in Belgium, such as Brussels, Antwerp, Bruges, and Dinant. Besides, I have visited Germany, including the German Sport University Cologne and the famous Christmas markets. Although both counties are located in Europe, the design of buildings, nature, and atmosphere have distinguishing features for each other. By visiting a variety of the places in Europe, I made the invaluable experience to develop cultural sensitivity.
Acknowledgment
I would like to express my deepest appreciation to all those who provided me the support and assistance for my stay in KU Leuven. A special gratitude I give to my local promotor in KU Leuven, Prof. Martine Thomis, whose contribution in stimulating suggestions and encouragement, helped me to conduct my research as well as daily life. Without her support, it would not be possible to spend productive time during the stay. Furthermore, I would also like to acknowledge with much appreciation to the crucial role of Prof. Jesse Davis, who gave me a new insight into machine learning techniques. Special thanks go to members of the Faculty of Movement and Rehabilitation Sciences who have accepted to having the current delegation. Many thanks go to the staff both of KU Leuven and Waseda University, who made all arrangements for my stay as well as daily matters. Last but not the least, I would like to thank my supervisor, Prof. Yanai Toshimasa, for the encouragement, support, and attention.