The Japanese music concert "Geijyutsu no Aki, Nihon no Neiro ‐ Shamisen, Koto, Shakuhachi performances by students and staffs ‐" was held at Okuma Auditorium on October 11. This event started from last year, and this concert was the second time.
Shamisen and Koto are the Japanese stringed musical instruments. Shakuhachi is a vertical Japanese flute made of a bamboo stem.
At the concert, students and staffs played the music familiar from ancient Japan. The collaboration of students and staffs is unlikely to seen in other concerts.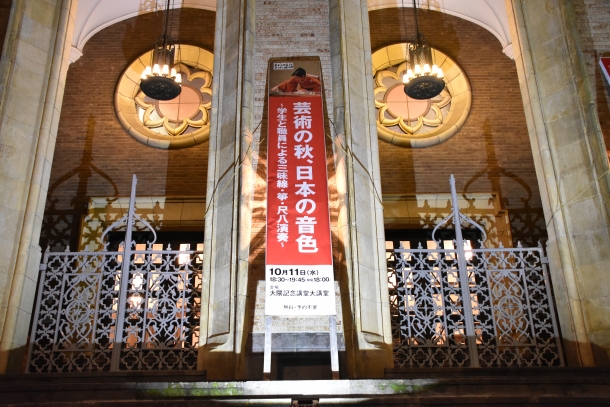 8 songs were played in total.
The first song, "Haru no Umi" is very popular. It expresses the scene of peaceful Seto Inland Sea in spring. It was very comfortable.
The forth song was "San San Sakura". You can imagine the cherry blossoms in full bloom from this song.
The sixth song, "Gekka Bijin" expresses one beautiful white flower that can bloom only one night. It is similar to the sweet sound of the Koto.
The seventh song was "Higurashi". The sunset at the end of the summer and the shrilling of Higurashi, one of the cicada, are described in this song. At the last of the song, the Koto was strummed like the chorus of Higurashi.
The last song was "Chidori". It has the lyrics from Kokin Wakashu (Collection of Ancient and Modern Japanese Poetry). It expresses a scene where the plovers fly over the beach.
San San Sakura
【Feedbacks of visitors】
・I could listen to the Japanese good old sounds quietly. The Kimono made the atmosphere comfortable and the sound beautiful. It was wonderful.
・Although the classics are wonderful, "San San Sakura" was spectacular performance. "Black Hair" was very good. "Chidori" was the best singing and performance.
・Everyone is very young but very good at singing and playing the music. I was surprised at the Higurashi's shrilling.
・This is the first time I've listened to the Japanese traditional music concert. I hope that Japanese culture will last forever !!

Click here to get more information of "Waseda Cultural Art Week" !!