This and that of the world's happiest country
Fri, Apr 14, 2017
Passing time in Bhutan (Part 5)
Assistant Professor Takehiro Hirayama
The Hirayama Ikuo Volunteer Center (WAVOC)
Spain is known as the Land of Passion, The United States is the Land of the Free, Thailand is the Country of Smiles, and Bhutan, the World's Happiest County. Bhutan has been described with epithets such as the unexplored or Shangri-La, but in the past decade, it has been introduced by the media as the Land of Happiness of the World's Happiest Country. However, just like how Thais are not smiling all the time, Bhutanese are not living nonchalantly and making themselves believe they are happy. Majority of the Bhutanese people are doing all they can to make it through everyday life. They distress, struggle, enraged, cry and pray on the daily.
The premise of Bhutan as the "World's Happiest Country" itself is wrong in the first place. To be precise, Bhutan is a country aiming to be the world's happiest. Since the start of the 21st century, the Bhutanese government has set a goal to maximize gross national happiness (GNH) and has been building the nation to achieve this. Having such a goal is wonderful in a sense that Bhutan is proposing and actually implementing development plans without being completely focused on increasing GNP and GDP. This is worthwhile for the world to know, but it does not mean that everything is perfect. It is possible to say that Bhutan a country "on the way" to be the world's best.
If all Bhutanese are already happy, then the Bhutanese government which has reached its goals would lose its meaning to exist and dissolve. The reality is different though, and there are so many issues to tackle. In April 2012, the Prime Minister at the time said that, "Contrary to what many mistakenly believe, Bhutan is not a country that has attained GNH and it is not from a pedestal that we serve as a humble facilitator today. Like most developing nations, we are struggling with the challenge of fulfilling the basic needs of our people. What separates us, however, from most others is that we have made happiness, the most fundamental human needs as the goal of societal change.*" What the Prime Minister had to say is exactly on point.
*Address by the Honorable Prime Minister on WELL BEING AND HAPPINESS at the UN Head Quarters, New York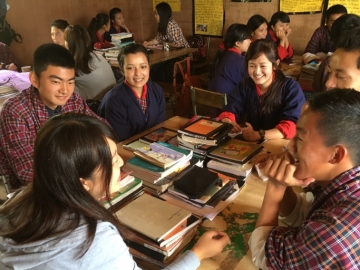 Like the idiom "love is blind," if people focus too much on Bhutan's so-called happiness, all the other profound and intriguing phenomena of the country will not be brought to light. This academic year, WAVOC will hold Open Courses on Bhutan. These classes will not only focus on Bhutan's GNH and happiness, but it will examine the situations in Bhutan from multiple perspectives.
Related links
Links