About Waseda University's organization, corporate offices, academic institutions, affiliated schools and related companies.
Waseda University is comprised of a corporation and an academic institution, both headed by the President who serves as Chair of the Corporation's Executive Board and leads the academic institution.
The President is elected by faculty, staff and alumni for a four-year term, and may be reelected to a second consecutive term. The Board of Trustees oversees the administration and decides on important issues.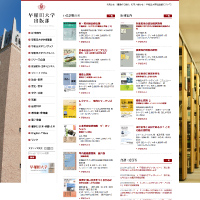 Established in 1886, the WUP has contributed to modernization in Asia for over 100 years, including the first lecture transcripts published in Japan.
The company provides solutions and consulting services ranging from administrative services and systems development to teaching material and curriculum development and alumni data administration.