Remembering Auschwitz: Seventy years after liberation – Exhibition of Mieczysław Kościelniak Paintings
Thu, Mar 12, 2015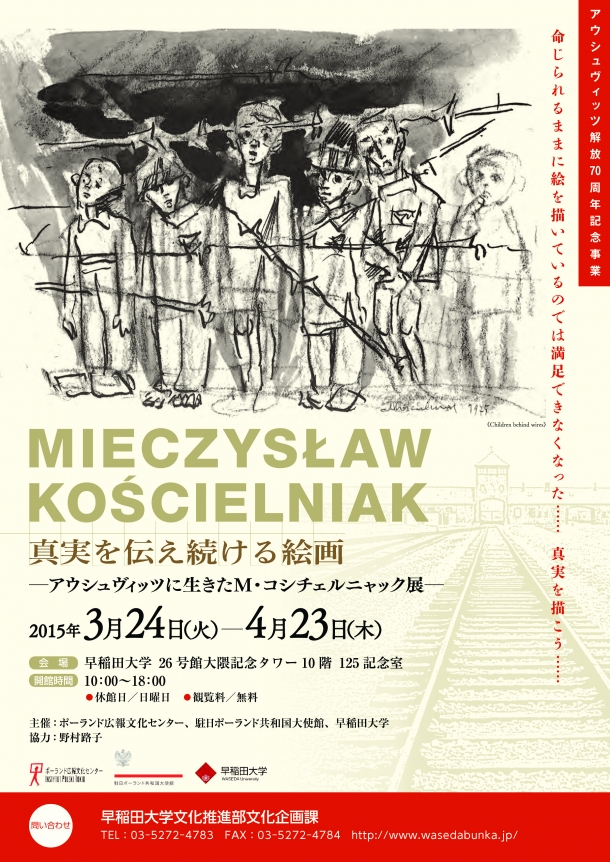 Waseda University's Cultural Affairs Division will host an exhibition of paintings by Mieczysław Kościelniak from March 24 to April 23.
 Mieczysław was a Polish painter, graphic designer, and draftsman who was arrested in 1941 and sent to the Auschwitz concentration camp. While imprisoned he made hundreds of paintings depicting the everyday life of prisoners, fully aware that he might be killed if found out by his captors. Mieczysław's paintings not only depict the horrors prisoners experienced at the camp, but also the perseverance of individuals despite their hellish circumstances.
 Mieczysław's wife entrusted author and Waseda graduate Michiko Nomura, with nineteen of her husband's paintings, commenting that "My husband did not want the next generation to repeat the same mistakes." Nomura wants the youth of Japan to learn from Mieczysław and his works before she returns them to Mieczysław's homeland of Poland.
 The exhibition is open 10:00-18:00, Monday-Saturday, at the Okuma Memorial Tower on the Waseda campus (Nishi-waseda 1-6-1, Shinjuku). Admission is free of charge.