"A Spectator" – A lecture by world-renowned dancer and choreographer, Jérôme Bel
Wed, Mar 4, 2015
Report of Jérôme Bel's lecture and performance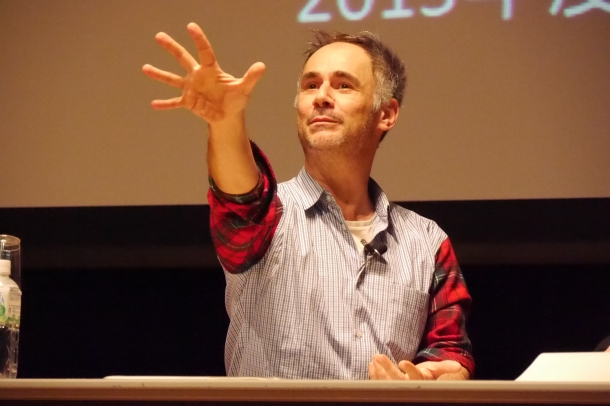 World-renowned dancer and choreographer, Jérôme Bel, delivered a lecture and performance entitled "A Spectator/Un Spectateur" at the Ono Auditorium on February 12th.
Bel held his production of "The Show Must Go On" at the performing arts festival, Festival Tokyo, in 2011 and shortly after held his production of "Pichet Klunchun and Myself" at the International Performing Arts Meeting in Yokohama. He has garnered a strong following in Japan and his productions have been presented at modern art festivals such as the European Biennale di Venezia as well as across Asia. He is possibly one of the most sought-after artists in the world.
The "spectator" in the title of the lecture and performance given at Waseda University refers to Bel himself, an artist with a deep and loving appreciation for the performing arts. While being an energetic artist, Bel is also known as a performance/dance enthusiast spectating over 500 performances in a given year. Bel states "The most ideal position in theater is not that of a director or actor, but of the individual who can completely experience the performance, the spectator." In this lecture, Bel shared his experiences not as a director, but as a spectator of 15 works. He discussed his experiences based on perspectives such as time, space, and the physical and explained how the works of international artists such as Jan Fabre and Alain Platel impacted him. Developing his ideas through gestures, Bel made his viewers become aware of the various ways of enjoying and watching theater.
A memorable quote from the lecture is "Each and every spectator is similar to a collection of notable works in a theatre museum." Bel is probably referring to the memories and experiences of powerful performances that exist within each individual. Bel's lecture provided us with a wonderful opportunity to think about the mysteries of theater and dance and what attracts us to the performing arts.
Yuma Ochi (Assistant, Theatre Museum)
 Jérôme Bel (Dancer, Choreographer, and Director)
Born in France in 1964, Bel participated in many notable works as a dancer after his education at the National Center of Contemporary Dance. He worked as a performance assistant for the opening and closing ceremonies of the 1992 Albertville Winter Olympics. Bel began his career as a choreographer in 1994 and his production, "The Show Must Go On" won a Bessie Award. Examples of recent works include "Disabled Theater" (2012) which feature performances from actors with mental disabilities and "Courd'honneur" (2013) which was made for the performing arts festival, Avignon Festival.