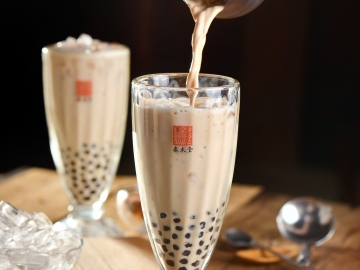 In recent years, Taiwan has become more and more popular as a holiday destination. And the most attractive thing about Taiwan is of course its food and drink! At the ICC Taiwan Culture Cafe we're focusing on Taiwan's "soul drink"; Pearl Milk Tea! These days, Pearl Milk Tea has spread across the world and there are few people who don't know about it.
However not many people know how Pearl Milk Tea was invented, and how it became so popular.
Now, we have invited the staff from the head office of the company that gave birth to Pearl Milk Tea; "Chun Shui Tang" in Taiwan, to come and tell us the story of Taiwanese tea culture, Pearl Milk Tea, and how they expanded from Taiwan into the Japanese marketplace. As well as that, there will be special presentations from Waseda's own Taiwanese students introducing Taiwanese food and drink culture, and the birthplace of Chun Shui Tang company "Taishung".
The exquisite sweetness and marvellous texture, alongside the delicious tea fragrance is a combination which has taken the world by storm. If you want to know the secrets of the amazing Pearl Milk Tea, then don't miss this chance!
★The first 100 participants will receive a free Pearl Milk Tea from Chun Shui Tang!
★There will be a Pearl Milk Tea making workshop. (Up to 5 participants, selected by lottery.)
If you love Taiwan, please join us for this unique event!
Date & Time
Nov. 29th (Wed), 2017, 4:30pm – 6:00pm (Doors open: 4:10pm)
Place
Okuma Garden House (Bldg. 25) 1F
Eligibility
Waseda Students & Staff, General Public
Fee
Free!
Registration
Not Required (Seats for 80, standing space available)
Language
MC and student presentation in English & Japanese. Chun Shui Tang presentation in Japanese (You can ask questions in English during Q&A time)
Program
1) Presentations about Food Culture in Taiwan
2) Presentations about Taichung City
3) Presentations about Pearl Milk Tea & Chun Shui Tang
4) Pearl Milk Tea Making workshop (limited to 5, seleceted from the first 100 people)
5) Cafe Time (Free pearl milk tea for the first 100 people).
Cooperation
Chun Shui Tang
Waseda University Taiwanese Student Association