Connecting local and global: The triple disaster as seen by a former international student
Mon, May 3, 2021
Journey of an international student since the earthquake—An endeavor to realize regional revitalization
It has been ten years since the Great East Japan Earthquake, which caused an unprecedented disaster. In the wake of the earthquake, many people reconsidered their values and outlook on life. Dennis Chia from Singapore was studying in the School of International Liberal Studies, Waseda University when the earthquake hit. He came to Japan as an international student and launched Boundless, a social business that connects regions in Japan and globally-minded individuals around the world to promote regional revitalization. He talks about his journey, the social issues Japanese regions face, and the future moving forward.
Participating in volunteer activities to support reconstruction after the Great East Japan Earthquake
Dennis Chia started studying Japanese at the age of 13 and entered the School of International Liberal Studies (SILS), Waseda University as an international student. Every school holiday, he traveled to various destinations across Japan, visiting all 47 prefectures by the time he graduated.
"When I first came to Japan, I didn't have a particularly deep knowledge of Japan's regional history and culture," says Dennis. "I saved money from working part-time like many other university students and spent them traveling around the country."
Dennis' interest in regional regions was triggered by the Great East Japan Earthquake, which struck on March 11, 2011. Back then he was a fourth-year student at SILS, and he was shocked by the horrendous scenes of devastation caused by the tsunami on TV.
"When I saw such destructive scenes of the country I had been fond of since I was young, I was eager to take immediate action, asking myself what I could do. I thought about visiting the site, but there was very little I could do to make a lasting impact on my own. Feeling frustrated due a lack of useful information and means, I learned about the volunteer project at the Hirayama Ikuo Volunteer Center (WAVOC) and decided to participate without hesitation."
The local stories in Ishinomaki City and a journey to rediscover Japan
WAVOC dispatched a specialized team of volunteers to Ishinomaki City, Miyagi Prefecture. Ishinomaki is a disaster-stricken area where a total of 3,700 people were killed or are missing. The scenes that Dennis saw on his way to the destination put him at a loss for words.
"The work at the site included removing debris, carrying out washed-out equipment, and raking mud. Ishinomaki, which I was visiting for the first time, was completely different from the tourist spots I had seen. There was no comfortable space to relax or sightsee, let alone a beautiful scenery. All that was left were shattered houses and cars that had been washed away by the tsunami. Despite the difficult situation in the aftermath, we received warm hospitality from the local people."
As he listened to their stories, Dennis realized that the tourist destinations he had seen were merely superficial parts of Japan and there is much more to be discovered, such as by interacting with locals of the region. After he returned to Tokyo, Dennis launched a project with an artist from Singapore. He visited elementary schools and evacuation shelters in Tokyo to collect well-wishing messages and drawings from children. By delivering them to elementary schools in disaster areas, the aim was to help children who had lost their dreams regain their courage and hope.
"After the Great East Japan Earthquake, I wanted to rediscover the charms of Japan beyond the superficial, so I traveled around the country in search of authentic experiences interacting with local people, mainly in places not listed in guidebooks," Dennis says. "By talking to local farmers and learning about traditional crafts rooted in these areas, I became fascinated with the culture of regional Japan."
A project to connect global and local
After graduating from SILS, Dennis gained work experience and then went on to graduate school. As a graduate student, he picked "disasters and communities" as his research topic and visited Aceh in Indonesia, Bohol Island in the Philippines, and Ishinomaki, Tohoku region to conduct field studies. There, he observed the difficult situations and fundamental issues that these regions were facing. At the same time in Japan, people were beginning to recognize rural areas due to the growing movement for regional revitalization around that time.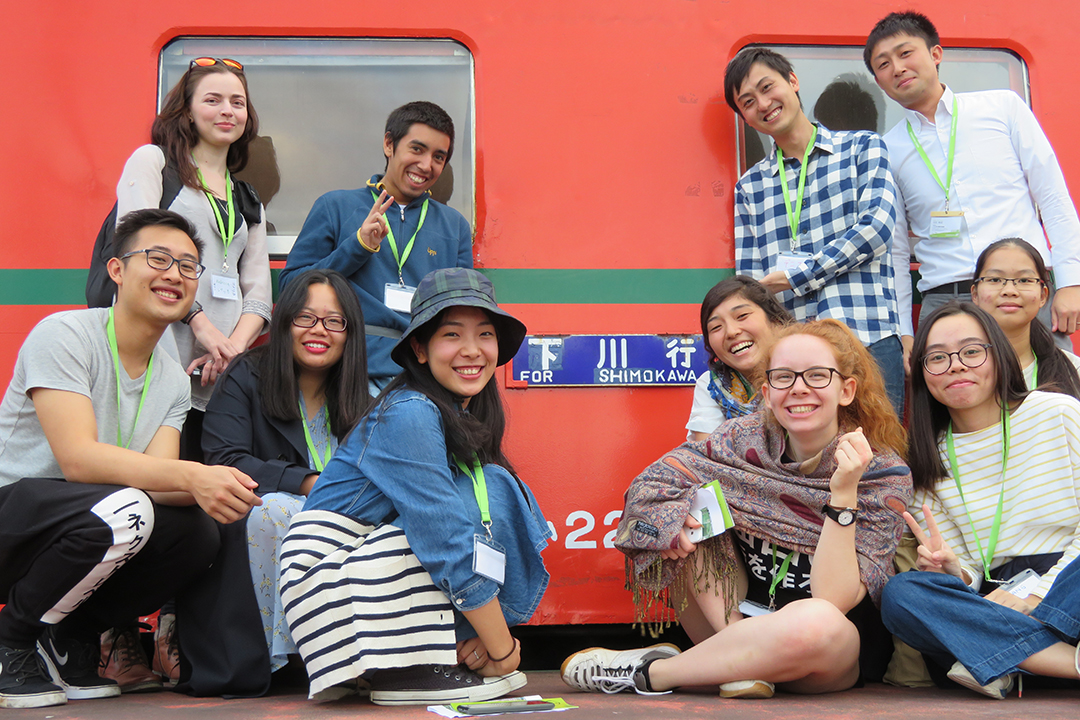 He says, "The more I learned about the regions of Japan, the more I was touched by the essence of Japanese culture and the passion of craftsmen for their traditions. At the same time, I also started to realize the issues these regions were facing. For example, social issues such as aging population and declining population were often thought to have been accelerated by Great East Japan Earthquake. However, it can be argued that disasters are mere manifestations of such issues that have existed for a long time."
In order to solve these social issues, innovative solutions are popping up to create new industries led by local communities, but Dennis thinks that it will be difficult for entities such as the United Nations (UN) and the government to take initiatives to promote these efforts. Though he considered working for the UN after finishing his graduate studies, Dennis began to question the gap between the perspective of the global organization, the 'UN,' and 'regions,' or the perspective of local people.
"So, I started my social business with a mission to solve local issues. That thought has led to Boundless's mission of 'connecting global and local.'"
As part of Boundless activities, Dennis organized programs connecting international students with local regions in Japan, where they interacted with locals and learned about social issues faced in the region. At the same time, these participants of myriad backgrounds inject fresh perspectives into the regions and the locals. By transforming these regions into places of learning, for both the local and global, regional revitalization is now seen in a different light. Regional revitalization involves tackling local issues that are universal across the globe, such as aging and declining population, food self-sufficiency, abandoned houses and disappearing villages.
"Looking 10 years ahead, instead of looking back 10 years"
A decade will soon have passed since the Great East Japan Earthquake struck.
"I want to look ahead to the next ten years rather than looking back on the past ten years," Dennis says. He talks about the prospect of Boundless, a social problem-solving company launched in 2017, to connect regional revitalization and education, as well as fulfill his vision of the future.
Through Boundless' initiatives, Dennis attempts to contribute to regional revitalization and sustainable development by connecting international communities, such as international students and returnees, with municipalities throughout Japan. Activities that started with only one person 'learning about the social issues while spreading the charms of rural Japan' were now spreading globally.
Initially, through Boundless, international students participated in regional revitalization activities together with locals and contributed fresh ideas and perspectives.
The purpose of Boundless activities slowly steered away from "thinking of solutions to solve local problems" and toward the idea of "learning from ongoing and innovative projects and solutions to solve local issues". In fact, we began to realize that the international participants can actually bring back these ideas and solutions to their home countries as these "local" issues have a "global" relevance. Bringing back these initiatives to their home countries will contribute to revitalizing and solving social issues in these places too. For example, young Taiwanese participants who took part in a Boundless project in Ishinomaki have since published a magazine to talk about local initiatives, community-based activities, and innovations based on their experiences they had in Ishinomaki.
Dennis says, "Looking ahead, I want to create more connections between Japanese regions and globally-minded individuals.
By doing so, the global participants can learn about existing social issues as well as innovative efforts to solve them. Through these global participants, these innovative ideas can then spread out of Japan across the world. My ultimate dream is to spread both these innovative social initiatives and ideas, as well as the profound traditional Japanese culture imbued with wisdom passed down from previous generations.
Ten years will soon have passed since Dennis witnessed the Great East Japan Earthquake as a student at SILS. He says that Waseda was a place where he could always take up new challenges and gain new experiences.
"The experience in the aftermath of the earthquake disaster changed my life significantly. Reflecting on the event is important in order not to forget the lessons learned. However, what is more important to bring about new innovation and change is to look ahead into the next 10 years and beyond. To that end, I hope to continue disseminating the charms of Japanese regions, as well as innovative solutions to social and environmental issues, in order to contribute to regional revitalization and sustainable development."
Profile
Born in Singapore, Dennis Chia graduated from the School of International Liberal Studies, Waseda University in 2012. After completing a master's program at the Graduate School of Interdisciplinary Information Studies, University of Tokyo in 2016, he founded BOUNDLESS, a social problem-solving company to connect regional revitalization and education in 2017. At present, Boundless has been officially dissolved, but he continues to operate it as a side project while working for a start-up company developing electric vehicle (EV) charging technologies.