Waseda and Peking University jointly publish book on international studies in Asia-Pacific
Mon, Apr 5, 2021
As part of a joint research initiative, Waseda and Peking University have co-edited and published a book titled New Perspectives on International Studies in Asia-Pacific. The book is broken into three main sections covering topics from foreign relations and economic cooperation to domestic governance and community participation in the Asia-Pacific­ (particularly East Asia) region. The collection of papers in the book is a condensed version of research findings from academic exchanges between scholars at the two universities in 2019.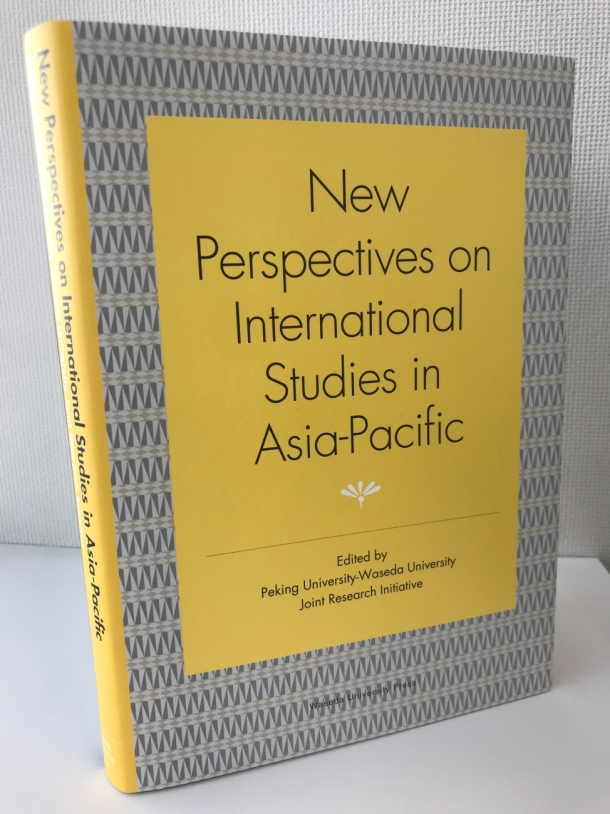 "This joint project on research cooperation in humanities and social sciences aims to provide opportunities for young scholars in China and Japan to discuss important research issues from different perspectives," says Vice President Masahiko Gemma in the afterword section of the book. "This endeavor for collaboration between China and Japan can expand to include more diversified and integrated fields of academic research. We believe that individuals, corporations and governments will benefit from such collaborative studies."
The following is the list of contents of the book.
Part I: Foreign Relations in the Asia-Pacific Region
Chapter 1 – The History Problem and Sino-Japanese Relations in the Context of the Rise of China
Chapter 2 – China's Diplomatic Strategy and Policies Toward Japan During the Cold War
Chapter 3 – Considering Pre-War Cultural Diplomacy: Japan's Policy Toward China During the 1920s
Chapter 4 – Reincarnation of the "Devil": Changing Thai Perceptions of China From the 1960s To the 2010s
Chapter 5 – The Sultan's Choice: Why Did Brunei Not Join Malaysia in 1963?
Chapter 6 – A Comparative Study of the Positions of Japanese Business Associations in Japan-China Relations: Different Sizes, Different Preferences (2005-2012)
Part II: Economics Cooperation in the Asia-Pacific Region
Chapter 7 – Business, State, and Geopolitics: Decoding the Changing Dynamics of Economic Regionalism in East Asia
Chapter 8 – Rethinking Regional Cooperation in an Era of De-Globalization: The Case of Japan
Chapter 9 – China and Japan's Cooperation Efforts To Further Develop Regional Economy
Chapter 10 – From World Food Crises To Institutionalization of Food Cooperation in East Asia: Crisis as a Catalyst for International Cooperation
Chapter 11 – To "Beef" or Not To "Beef": Case Analysis on the Import of Red Meat in Taiwan
Chapter 12 – Contribution of Japanese Private Sector in Asia: The Role of Japanese Small and Medium Enterprises for Development in Southeast Asia
Part III: Domestic Governance and Community Participation
Chapter 13 – On the Criteria of Social Progress
Chapter 14 – City as a Reciprocal Space: East Asian Ocean City Networks and Multilevel Governance
Chapter 15 – Research on Resilience in Japan and South Korea: Case Studies of Kamaishi City and Pohang City
Chapter 16 – The Role of Government in Post-Disaster Reconstruction: Comparing Sichuan Earthquake and Hurricane Katrina
Chapter 17 – Self-Help Housing Production System: A Case Study of the Mutual Self-Help Housing Program in the United States
Chapter 18 – Voting Mobilization in Panamanian Referendums in the Era of Democracy
Chapter 19 – China's Childcare Policy in the Process of Urbanization