Waseda Students on Break Part 4 – International Adventure
Wed, Mar 25, 2020
I first crossed paths with Mairead Ruane in class. I was sitting in the second row of the lecture hall and Mairead sat a few rows behind me. She had a clear distinct voice that always stood out to me when she answered questions in class. However, since she was sitting behind me, I didn't know what she looked like. Meanwhile, my housemate Menen, was randomly added to a group chat of strangers and through a series of random and unforeseen events became friends with Mairead.  Several weeks into the semester, Menen invited a couple of friends over for dinner and I officially met Mairead that evening. So, even though we had been classmates for several weeks, we only officially met through a common friend. That friend did not have any overlap with Mairead in coursework, clubs, or other extracurricular activities and only met by chance.
About a week before the end of the semester, I found out that Mairead was going to the Philippines during spring break. Having lived there for the first half of my life, I recommended a few places and had her get in touch with my cousin who still lived in my childhood home. As it happens, my cousins were in the middle of shooting a short film called Tadhana, the Filipino word for fate. The following story is the account of Mairead's travels in the Philippines.
International Adventure
Still dizzy from her last final, Mairead packed her bags and headed off to the airport. Her first stop was a five-day trip to Taiwan then to the Philippines. She and her friend, Hannah, flew to the island of Cebu and from there to the island of Palawan. They arrived at Cebu's airport an hour before midnight and since they had an early flight the following morning, they opted to stay at the airport instead of booking a hotel room to only use it for a few hours. The weather, even within the airport, was warm and humid. They ate some pizza at the airport and tried to get some sleep before their next flight.
Day 1: Tuesday, February 4
At 4 A.M. they were up and in line to check-in for their flight to Palawan. They lined up outdoors and the air was warm, even in the early morning hours. They arrived in Puerto Princesa City, Palawan around 8 A.M. and was picked up by their host from the Bamboo Nest Hostel. He drove a tricycle, a motorcycle with a covered sidecar. The chart had two seats facing each other. The bigger seat could carry two people and a smaller person or child could sit in the seat across. Mairead was surprised when their host picked up a friend of his, fitting three adult passengers into the sidecar. However, this is not uncommon in Palawan. Sometimes, a big family will travel by tricycle. The father would drive with a small child in front of him on the motorcycle and the mother behind him. Two children could fit in the small bench seat in the front of the car and two bigger children could fit in the other seat. If needed, the children in the bigger seat could carry a younger sibling on their lap. With some cooperation and proper balancing, a lot of people can fit into a tiny tricycle.
When they arrived at the Bamboo Nest Hostel, they just slept, exhausted from their travels. They woke up around midmorning and headed to a beach across the road. There was no trash on the beach of white sand and clear waves as far as the eye could see. It was wonderful to relax on the warm beach after a long night of traveling. When they returned for dinner, the owner of the restaurant, a motherly woman, teased them about their Welsh accent and gave them plenty of food. They had fresh fruits and juices, along with rice and meat. The woman was surprised when they said they had gone to the beach and entered the water. "Oh, you shouldn't have gone to that beach," said the woman, "there are plenty of much nicer beaches. You have to see those." If that beach wasn't nice, thought Mairead, I wonder how beautiful the nice beaches are.
Day 2: Wednesday, February 5
Early the next day, my cousin Kevin, picked them up from the hostel and they left for Port Barton. It was a relief to be out of the city and back in nature. Mairead was also relieved to have someone with local knowledge with them. They didn't have to worry about transportation, where to go, or getting lost. At the time, my cousins Kevin and Patrick were filming a short film for Valentines' Day called "Fate." In the film, a young woman goes to a fortuneteller to learn about her true love. Armed with the knowledge of where she will meet her true love, she sets out to help fate along.
A few days before Mairead's arrival, the brothers had contacted a well-known Filipina actress, Teresa Loyzaga, to play the part of fortuneteller. To their surprise, she said yes and within the next few days, plans were finalized, and she flew out to Palawan. They were going to Port Barton to go island hopping and give Ms. Teresa Loyzaga a tour of picturesque Palawan the day Mairead and Hannah got together with them.
It was a three-hour ride to Port Parton and they stopped along the way for snacks and bathroom break. Upon their arrival, they hired a boat and went out to sea for island hopping. Hannah sat at the very front of the boat, allowing the waves to splash on her as the boat sped through the water. They had a merry time with music and dancing on the boat. The water was amazingly clear and clean, with colorful shells strooned across the beach and curious fish coming up to see the boat. They were able to relax and meditate on the beach and eat fresh fruit. The boat kept on stopping throughout their trip to allow the passengers to get off and swim in the sea. They basked in the sun, carried by the saltwater of the Philippine Sea.
Day 3: Wednesday, February 6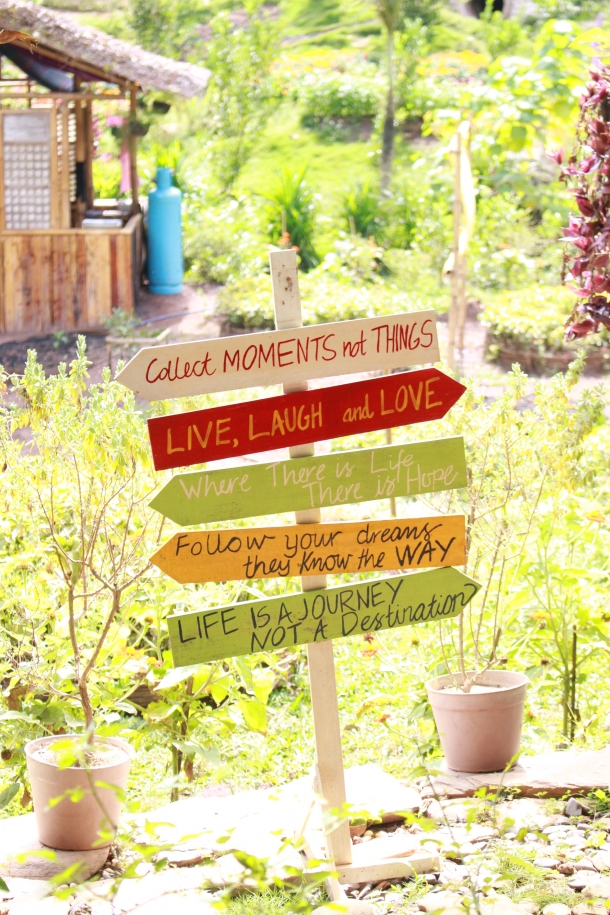 My Aunt Joy picked them up from their hostel the following day. They were headed to a farm called Yamang Bukid to film Ms. Teresa Loyzaga's part in the film. The name Yamang Bukid can be literally translated into "the wealth of the farm." It refers to the health of the land as well as the cultural wealth of the people. While the rest of their companions were filming, the farm owner's son, George, showed them around. It was a beautiful nature retreat with charming wooden huts and welcoming people. George told them about their community and work. Had it been a regular tour, you would expect your guide to point out a few interesting places, give a few facts and fun stories, then bring you around to the gift shop and send you on your way. Their experience was anything but, it was deeply personal. George took the time to introduce them to the people they met along the way. George explained how the produce from the farm were sold nationally and internationally. The money it generated helped sustain the community and provide scholarships for the farmers' children.
With filming complete, the rest of the group got ready to leave around noon. Mairead and Hannah were supposed to join them. The following day they were to head out to El Nido, a popular tourist site known for its beautiful cliffs and beaches. However, Yamang Bukid invited them to stay a few days and experience life on the farm. Valuing this as a rare and unique opportunity, they accepted and stayed on.
Day 4: Thursday, February 7
They had an early start the following day. They were outfitted with the Yamang Bukid uniform and wide brimmed hat. Mairead was nervous and excited however, a part of her doubted, thinking, "I'm not made for this." In the end, there was no reason to fear. They were shown how to farm and care for the seedlings they placed into the ground. It was a pleasant work environment as they labored beside young men and women their own age. Many of the farm hands on training were actually agriculture students from the University of Mindanao.  As the sun rose and the day grew hot, Mairead would hose herself down when it came time to water the ground. They would laugh and talk while they worked. "It wasn't serious," said Mairead, "and the workers didn't treat it like a chore. Even though we came from different countries and backgrounds we still had so much in common."
Work was interspersed with breaks and food and refreshments were provided. There were musicians among the group and the workers would take turns going on stage singing and dancing. There was no boasting or showing off when people performed. They did it for the pure joy of singing and dancing. There was no need to impress anyone. The good and the bad singers went up and everyone had a good time. "I didn't really have a good sense of time," said Mairead, "there were no clocks. We judged the passage of time from our soreness and how high the sun was in the sky."
The farm had 2000 workers in total. About 300-400 of them were at the farm and 400 of their workers had a college level education or higher. The proceeds from the farm funded three nursing homes. Their products and practices were environmentally friendly, and they fostered and promoted a sense of happiness and community. As Mairead observed this little community, what were only theories she had heard of and discussed in class: theories on government, society, finances, and business models, became realities. Amazingly, Yamang Bukid was living and practicing the best of these theories and is thriving.
The Journey Continues
The next few days flew by like a dream. They learned about the different parts of the community, from the artists that lived there, to the little school for the farmers' children, to the old lady who sold flowers. They were welcomed, not as tourists but as part of the community. People took the time to introduce themselves and share their life experiences. When you know a person is just passing through, the tendency is to not invest in them since they will be leaving soon anyway. But the people of Yamang Bukid, invested in these two young women and treated them as family.
Henry, a good friend of Aunt Joy, had stayed behind at the farm along with the girls. He served as a tour guide and protector of sorts. By the end of their stay, it was as if they were his daughters and he a second dad. They learned about organic fertilizers of recycled compost. They learned about the research the farm was doing into problems with livestock and sustainability. They got to be a part of an old lady's birthday celebration where members of the community drew portraits of the woman as their gifts. Mairead did one, too. At the event, they met Julius, a young artist who used the proceeds from his art to save a child by getting him the medical treatment he needed.
They met scientists and artists. They learned their stories and aspirations. It was wonderful and humbling at the same time. During one of their conversations, George gave the girls a bit of advice. "Look at the hands of your parents," said George, "their labor, care, and love for you show in their hands." Family and community are such a big part of Yamang Bukid. Without this spirit of synergy and belonging, Yamang Bukid would not be the thriving community it is. For all the greatest theories in the world, it would not work without the human element of love and compassion. Despite all their success, there was no pretense of perfection. There was no fake modesty, only honest simplicity. People shared the facts of their lives and how they felt.
During their last dinner at Yamang Bukid, a clinical psychologist from Manila, the capital of the Philippines, came and had dinner with them. George was supposed to meet with the psychologist but could not leave since he was hosting Mairead and Hannah. So, the psychologist came to the farm instead. It was a nice conclusion to their trip. They were able to discuss mental health and the way that the human mind worked and its resilience despite difficulties.
They left with many goodbyes, hugs, kisses, and tears. Mairead said, "I wish I could have stayed longer. I felt connected and you don't find that often. It's hard to put how I feel into words. All I can say is it was special." Thanks to technology, Mairead still messages with her new friends and family and hopes to continue these relationships for years to come.
Yamang Bukid invites others to come and see and experience this community. They want to share their community with others and extends the invitation to Waseda students saying, "Come, bring your whole classroom with you next time. We want people to see this community for themselves. We need artists, scientists, and storytellers." Studying abroad not only opens the door to experiencing the culture of your host country, but that of its neighboring countries as well.
Trip Summary
Advice for Students/Things I wish I knew before traveling:
Before coming on this trip, I wish I had planned more. I was still so busy and tired from finals that I haven't had a chance to do any research before I left. However, being flexible and changing our plans for the latter half of our Palawan trip allowed us to stay at the farm which was the best possible outcome for our trip.
Bring the right equipment and clothing. The Philippines and the other countries I visited were significantly warmer than Japan. It's important to know the kind of environment you're going to and bring the proper clothing and footwear suited to that environment. It's also a good idea to find out important miscellaneous things you might need like bug spray.
Before traveling, I thought I was more spontaneous. However, I realized that I like routines, knowing what to expect, and having a clear itinerary.
I realized that I often planned too much for one day. There are so many places to see and so little time. In trying to go to too many places, I ended up rushing and not fully appreciating any one of those places. Planning too much, especially with a long trip can result in burning out too quickly and being exhausted for the rest of the trip. I needed to be more realistic in my planning and only choose one or two major things to do per day.
Always put your health first. If you're feeling unwell, rest and try to get medical help even if it means taking time away from your trip.
Be careful of cheap housing. We're pretty spoiled in Japan since even really cheap Airbnbs are generally clean. However, that isn't necessarily true in other countries. Be careful and put your health first, even if it means spending more money.
I also realized that I felt less confident traveling on my own. I felt a lot safer when I was traveling with my friend. When going to unfamiliar places, it's a good idea to have a travel buddy for safety and companionship. It's good to spend time on your own but put your safety first and try traveling with someone you can trust.
Overall Trip Itinerary:
Taiwan January 31- February 4
Philippines February 4-10
Singapore February 10-15
Thailand Feb 15-17
Links:
*This article was written and contributed by the following student.
Student Contributor
Gabriella de Asis
Exchange Student from California State University, Northridge
(Currently studying at Waseda's School of International Liberal Studies)
Links