Building a better world through business
Fri, Sep 6, 2019
On August 27, Waseda University and the International Committee of the Red Cross (ICRC) organized the public seminar, "Building a Better World Through Business – Challenges in Humanitarian Assistance in Africa and the Role of Private Sector." This seminar held at the Nihonbashi Campus was joined by Peter Maurer (President, ICRC), Izumi Kobayashi (Former Vice Chair, Japan Association of Corporate Executives), Khaled Sherif (Vice President, Regional Development, Integration and Business Delivery, African Development Bank Group), and Aiji Tanaka (President, Waseda University), who exchanged their views on what businesses can do to help address the latest humanitarian needs in Africa.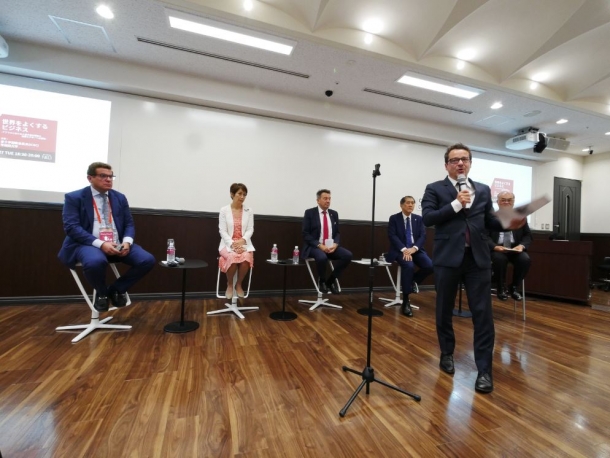 During the panel discussion, Maurer described factors which entice ICRC to form new partnerships with businesses. He said, "We know that people don't want unilateral handouts but want different forms of aid. They want capacities to rebuild, jobs to earn more income for their families, education for their children, and security for their communities. The way out [of crises] is in capacitating people in building new markets."
Sherif noted, "Africa is not poor, but it is exploited. To elaborate, Africa exports coffee beans but imports coffee. The value addition, or what we call value chains, is what the African continent is losing on a regular basis. To bring wealth to the African continent, Africa has to be able to take [raw materials and make them into products]."
Kobayashi explained that, "Though Japanese business leaders are interested in Africa as a market, they are risk-adverse, and are unsure about how their business can contribute to humanitarian assistance or whether the expected size of returns would provide enough incentive for them to venture into frontier markets."
In response to their statements, Tanaka said, "As a higher education institution, we must think about what we can do to help people achieve financial independence. Waseda is on abroad to undertake such a role because, to quote the words of Shigenobu Okuma, the founder of Waseda, 'We must not only serve ourselves, our family, or our country, but also be aspired to serve the world.' These words are written in our mission statement, and as a university with the most number of international students, as well as one of the top numbers of students who study abroad or volunteer, it is our responsibility to offer innovative ideas and imaginations which lead social actors to create new products, market mechanisms, and social systems."
Additionally, Maurer mentioned that education and innovation are essential to unlock potentials, and that having a market-based approach in humanitarian assistance can "bring people back to normal life," paving a pathway to independence. Tanaka then referred to resilient intellect and flexible sensibility, characteristics he feels are essential in engaging in business worldwide, and expressed his expectations that Waseda students would develop them to think through challenging problems and embrace diversity.
At the end of the seminar, Tanaka said, "There are many students who volunteer or those who are interested in becoming entrepreneurs at Waseda. However, there aren't many students with the mindset to engage in business for humanitarian aid yet. I hope that our institution will graduate such students in the future."