Renovated floor of the Central Library is now open
Fri, Oct 12, 2018
Now with a greatly expanded Learning Commons, the second floor of the Central Library has a new look!
We invite you to decide how you want to use these wonderfully convenient new areas and facilities.
The new areas work in tandem with the Library's traditional peace and quiet, so that you can make the most of your time in one of the most extensive library collections in Japan.
*Announcement about the renovation is here.
Commons 1 (Creation)
An area where you can collaborate with colleagues, create new knowledge, and produce or publish your results.
With 11 computers available, you can use the space to do group work around a computer.
Plug in your own computer or connect via Wi-Fi.
At the LA Desk, you can ask a current graduate student Learning Assistant to help you with your studies.
At the Reference Desk, librarians can help you with hard-to-access materials and complex searches.
Commons 2 (Discussion)
An area where you can swop ideas, discuss things in a group, and share your excitement about new discoveries, using the library materials.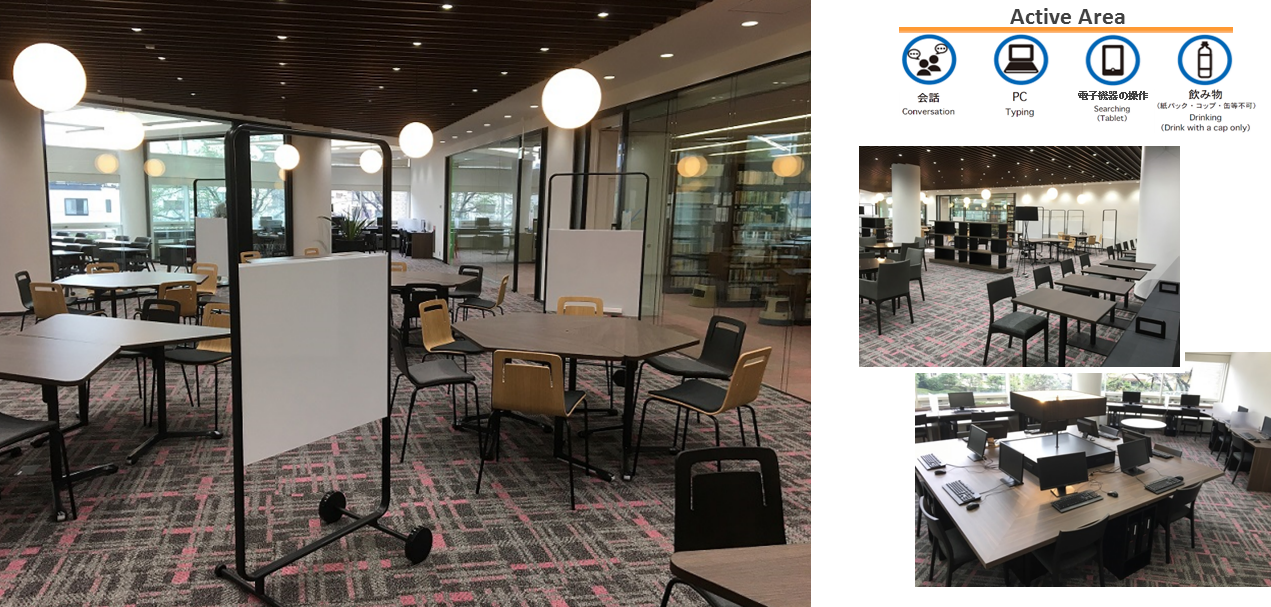 Rearrange the tables and chairs to suit your needs—and check out the sofas!
Use the movable white boards, plug in your own computer, or connect via Wi-Fi.
With individual users' needs in mind, 15 computers are available.
Take a look at the display of newly arrived books and the mini exhibition space!
Group Study Room 1 / Group Study Room 2
A space where Library events encourage communication and help you gather materials and expand your knowledge!
No need to reserve!
Great for groups! We'll also hold a variety of Library events here.
Rearrange the tables and chairs to suit your needs and make use of the overhead projectors.
Plug in your own computer or connect via Wi-Fi.
Silent Reading Room 1
The quietest area in the Library, designed to help you concentrate on your own learning.
No need to reserve!
Total silence please! This means no talking, no using keyboards or screens, and no drinking.
A space where you can concentrate on reading Library materials or your own study in peace and quiet.
Guide to Zoning in the Library
Different rules apply to each area. Choose the area that best suits your needs. We ask that you abide by the rules that apply to the different areas of the Library.

(New! A zone where you can talk on the phone!) Take sudden calls in the locker room on the 2nd floor!
We've changed the rules so that if unexpectedly you have to take or make a phone call, you can do so in the locker room. Please be sure to close the door firmly behind you and refrain from talking in a loud voice. If it looks like you'll be on the phone for a while, we ask that you leave the Library and make the call outside.

Phone calls may not be made anywhere else in the Library.
We ask that you help us to maintain the quiet environment of the Library.
(New! A place where you can have a bite to eat!) Hungry? Head to the Refresh Area!
"I wish there was somewhere I could eat a snack!" vs. "I hope you won't let people eat in the Library!"
We're doing our best to keep everyone happy by establishing a Refresh Area outside the entrance gates. Here you can eat a snack without leaving the Library building. We ask that you refrain from consuming hot soups and other food with a strong smell. Please leave the area clean after you've finished.
Once you've gone through the entrance gates, no food is allowed anywhere in the Library!
Please refrain from bringing food, including sweets and snacks, into the Library.

Renovations: Second Stage
We are planning to renovate the third floor of the Central Library as follows:
Third Floor: February 1 – March 15, 2019 (planned)
* The Library may close temporarily during building work. Any closures will be announced in advance on the NEWS page of the Library's website.
* Access to some parts of the Library will be restricted during the renovations.