"If I could learn a new language, it had to be Singlish," says Pilkyu the polyglot who speaks four
Fri, Sep 28, 2018
An interview with Pilkyu, polyglot who speaks four languages
Pilkyu was born in South Korea and spent 20 years living in the country before coming to Tokyo to pursue his undergraduate degree at Waseda University. He has a love for studying languages and picked English and Japanese back in high school as his major and sub-major respectively. Considering the enormous amount of time and hard work one has to spend on learning a foreign tongue, speaking two or three languages is itself an incredible skill. To Pilkyu, being trilingual just was not enough to satisfy himself, who decided to sign up for intensive Mandarin Chinese classes during his first year at Waseda. Contrary to what you might have guessed, the polyglot is not a linguistics student. Instead, he majors in economics and is currently a fourth-year student enrolled in the Japanese degree program at the School of Political Science and Economics.
"If I could learn a new language, it had to be Singlish."
When asked what other languages he would like to learn, Pilkyu said it had to be Singlish. Singlish is a colloquial English-based creole language spoken in Singapore that uses and mixes grammar structures and vocabulary from the English, Chinese, Malay and Tamil languages. It is often said to be one of the most efficient languages in the world, featured even in UK-based BBC online news titled "The rise of Singlish." Pilkyu said he was so fascinated by the language when his Singaporean friend introduced him to the language. To him, Singlish is a crystallization of what harmonization of languages and cultures is like. Whichever language he wants to learn in the future, it looks like Pilkyu is not going to stop at just knowing four.
Off to Peking University in pursuit of a double degree
Pilkyu's passion for learning languages lies essentially in his love to meet and interact with people from different countries and cultures. He thinks that languages are magical as they can help you connect instantly to the other party if you speak his or her native tongue, especially when both parties meet in a foreign country. Besides his love for languages, he decided to learn Mandarin Chinese at Waseda because he is also very interested in China and East Asian economy.
When he signed up for Chinese classes, never did he imagine he would be doing his double degree program at Peking University, one of China's most prestigious universities which Waseda has formed an academic agreement with. His professor was the one who highly recommended him to push his boundaries and spend one year in China. As someone who always embraces challenges and opportunities, Pilkyu decided to submit his application to study at Peking University in his second year of study.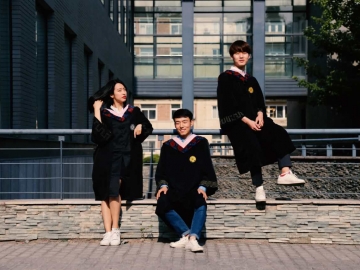 "When I was at Peking University, all the classes I took were conducted in Chinese. It was really challenging to communicate and discuss in Chinese with the local students. What touched me and made me feel so happy was that the Chinese students were very willing to help me out with my school assignments and taught me things that I didn't fully understand in class. They owed me nothing and did not have to do that for me."
Chinese, Japanese and Koreans. It can be difficult to tell the differences between them when it comes to appearance, especially if you are not East Asian. Some might even think that they are culturally similar, which is true to some extent, but they are also at the same time unique in their own way. Having interacted with both Japanese and Chinese, Pilkyu made an interesting observation in the classroom.
"Japanese students tend to be passive learners and usually don't interrupt the professors during class. Chinese students, on the other hand, are always eager to ask questions, much like their counterparts in the West. As for Korean students like myself, I think we are somewhere in between the two."
Living in WISH
When Pilkyu was in South Korea, he had lived in the school dormitory during his high school years. Nevertheless, living in Waseda International Student House (WISH) has given him new experience and perspectives.
Launched in March 2014, WISH is an international student dormitory with a total room capacity of 872, where domestic and international students of diverse backgrounds live and interact with one another under one roof. Moreover, the Social Intelligence (SI) program compulsory to all WISH residents intended at cultivating leadership, as well as communication and creative problem-solving skills, are also held at WISH throughout weekdays during term time. Through active participation in the SI program and by living together with students from all over the world, WISH residents can not only further develop their soft skills, but also attain a deep cross-cultural understanding, both necessary to become successful global leaders.
Towards the end of the second year stay at WISH, residents will have a choice to apply for becoming a residence assistant (RA) of WISH, of which some of the benefits include getting to live in a bigger room and having a personal bathroom, otherwise shared with the rest of the residents. At present, there are merely about 34 RAs at WISH, and because demand is high, applicants usually have to pass a series of assignments and interviews as part of the strict, competitive selection process. Aside from looking after the needs of the residents at WISH, RAs also have to plan, organize and coordinate events held at WISH, a good opportunity to foster leadership and planning skills.
"The thing I like most about living in WISH is the opportunity I get to interact with both Japanese and international students from all over the world. This is unlike my high school dormitory, which consisted of mainly Korean residents," said Pilkyu without hesitation when asked what he felt about living in WISH.
Meeting new people of different backgrounds and cultures is in no doubt an exciting part of university life. However, a clash of cultures is sometimes unavoidable but is also part of the valuable experience one needs to broaden his or her worldview. Now an RA with his own private room at WISH, Pilkyu recalled that his roommates during his first two years living in WISH were Japanese, American and Nepalese. They would sometimes invite one another for dinner, but the Nepalese student had often turned down their invitation and did not seem to be excited about joining them. Pilkyu later found out that his Nepalese roommate had a restricted diet due to religious reasons and could not join them in many of the restaurants they went to. He thinks his Nepalese roommate was perhaps trying to be considerate back then by not stating the reason why he did not want to join them. He probably did not want the rest to pick another restaurant because of him. When Pilkyu was a resident, he had the opportunity to learn about such differences. Presently an RA, he now had to step in between students to help solve conflicts that may arise between them.
Pilkyu's reflection
"I'm currently in my fourth year doing my job-hunting in Japan. Now that I reflect upon my past four years at Waseda, I feel that I have changed and grown so much. I've outgrown myself from being a very domestic person who knew only Korea, to someone who can understand and empathize with people of different backgrounds that hold different values. My overseas experience at Waseda and being an RA at WISH has also made me a more communicative person with good leadership and planning skills."
Advice to students
"My advice to prospective and current Waseda students is to lead a student life without regret. If given the chance, try out new things and make new friends with people from different countries and cultures. Don't hesitate and go gain lots of experience. You don't want to look back at your university years and say 'Gosh, I should have done this and that back in school!' Waseda University has so many enrichment and study abroad programs that you don't want to miss out. You may face obstacles in your way, but remember, each and every challenge is a growing opportunity for yourself."
Links