President Joachim Gauck of Germany encourages students to venture out into the world
Tue, Nov 22, 2016
Joachim Gauck, President of the Federal Republic of Germany, visited Waseda University to deliver a lecture in front of an audience of 400 students, faculty members, staff, German officials, national and international media, and the general public at Masaru Ibuka Auditorium on November 16.
Waseda University President Kaoru Kamata met with President Gauck before the lecture. "In a world where globalization is taking place so rapidly," Kamata said, "the problems faced by both countries may not be easy to solve. Yet, because we live in times like these, Germany and Japan, which have formed a lasting friendship over the years, need to continue dialogues for grappling these issues. I believe today's lecture will inspire students and foster an even closer relationship between the two countries."
In the beginning of his lecture, President Gauck said, "Waseda University is not only one of the most reputable universities in Japan, but it has also established a global network. There are 21 universities in Germany which Waseda has agreements with. We hope to value these partnerships and make them stronger." President Gauck then focused on the German-Japan relations. "Germany and Japan have exchanged so many ideas in different fields. We have learned from history and developed a wonderful friendship while both becoming economically developed nations. Because of the good relationship we have, we have helped each other during hard times, such as when natural disasters struck, bringing us closer together. Also, we are ready to take on the problems we face today through technological innovations and the capacity to adapt to social changes."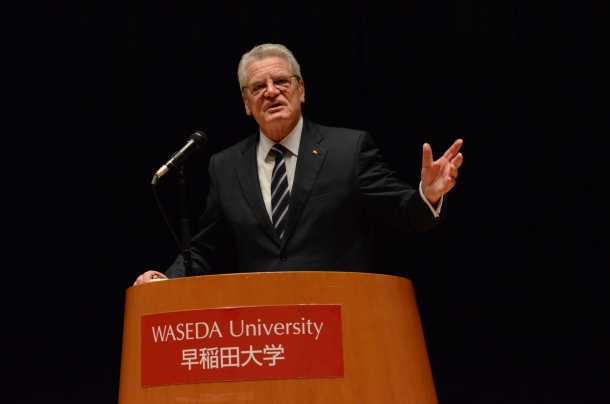 Lastly, President Gauck quoted Count Hermann Alexander von Keyserling, a philosopher who has visited Japan, for the students who came to the lecture. "The shortcut to getting to know yourself is to travel the world." He added, "Dear students, venture out into the world. Visit Europe and Germany, and please get to know my land and country. There is no limit to cultural exchanges like these, and they will enrich your life."
After the lecture, President Gauck sincerely answered questions from students on German-Japan relations, international affairs, and economic development with a sense of humor from time to time.