President Kamata named Chevalier of France's Legion of Honor
Wed, Oct 5, 2016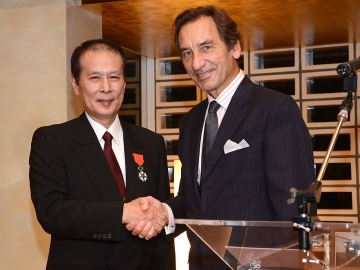 On September 28, the French Government presented Waseda University President Kaoru Kamata with the Chevalier distinction of the National Order of the Legion of Honor (commonly known as the Legion of Honor) for promoting academic and cultural exchanges between Japanese and French higher education institutions. Waseda's past university presidents, vice president, and deans attended the award ceremony held at the French Embassy in Tokyo.
Napoleon Bonaparte found the Legion of Honor in 1802 to recognized military personnel and civilians in the humanities, the sciences, industries, commerce, and the arts for their accomplishments. Non-French recipients are acknowledged for their services to France in areas such as economic development and cultural exchange.
At the ceremony, French Ambassador Thierry Dana emphasized how President Kamata has forged close ties with the country, both officially and privately. "President Kamata, who has experience studying abroad in France, has been dedicated towards progressing academic and cultural cooperation between Japan and France. Waseda University has actively sought partnership with French universities and encouraged dialogues between students from the two countries. Through this award, we hope that the relationship between Waseda University and France will thrive more than ever, so that we can welcome more Waseda students to France."
In his acceptance speech, President Kamata expressed his gratitude for the honor bestowed on him. "Waseda University has signed agreements with French institutions for more than half a century, with the former University of Paris as the first. The university has focused on strengthening organizational and systematic partnerships with its French counterparts for education and research. Waseda has played a central role in establishing academic and cultural exchanges between Japan and France. I promise to continue expanding opportunities for Japan and France to realize world peace and a flourishing society by taking full advantage of the unique cultural attributes the two countries have to offer."
Waseda University has signed university-wide agreements with 25 universities in France, starting with the former University of Paris in 1960. Also, undergraduate and graduate schools at Waseda have departmental agreements with 19 institutions. Furthermore, as of May 2016, 62 French international students study at Waseda, and 73 domestic Waseda students are studying in France. As for the faculty, there are 42 French nationals who teach and do research at the university at all levels. In addition, Waseda University has accepted a total of approximately 180 French scholars and has sent 260 researchers vice versa.
In 2005, Waseda University founded an overseas office in Paris, which had served as a central hub for supporting research in the European region for 10 years before relocating to Brussels, Belgium in 2016. At the Brussels Office, Waseda University continues to provide support to encourage international collaborative research by networking Waseda researchers with European scholars and acquiring EU's external funding.
On this occasion, Waseda University vows to endure its efforts to advance our relationships with French universities and enhance French studies to empower global citizens who will change society for the better.