Creative shadow media workshop for children with special needs
Mon, Jul 18, 2016
Professor Yoshiyuki Miwa from the Department of Modern Mechanical Engineering at the School of Creative Science and Engineering, Professor Yoko Nishi from the Department of Human Science at Tokyo Eiwa Jogakuin University, and their research group members have held performing arts workshops in disaster areas of the Great East Japan Earthquake.
What is shadow media?
These workshops are like no other. A new kind of interactive media technology called "shadow media" is used, in which an installation device generate colorful, artificial shadows of performers and project them on slit screens. These slit screens create an inclusive atmosphere where both the performers and the audience can immerse themselves in a dreamlike experience. Shadow media was developed for performers to metaphorically detach themselves from their shadows, raising awareness on their bodily movements and artistic expressions. Such shadow media performance was shown at the 2010 Genoa Science Festival in Italy, and a new system is being developed to enhance sound and background media. The diagrams below show how shadow media works.
More in-depth information on shadow media can be found here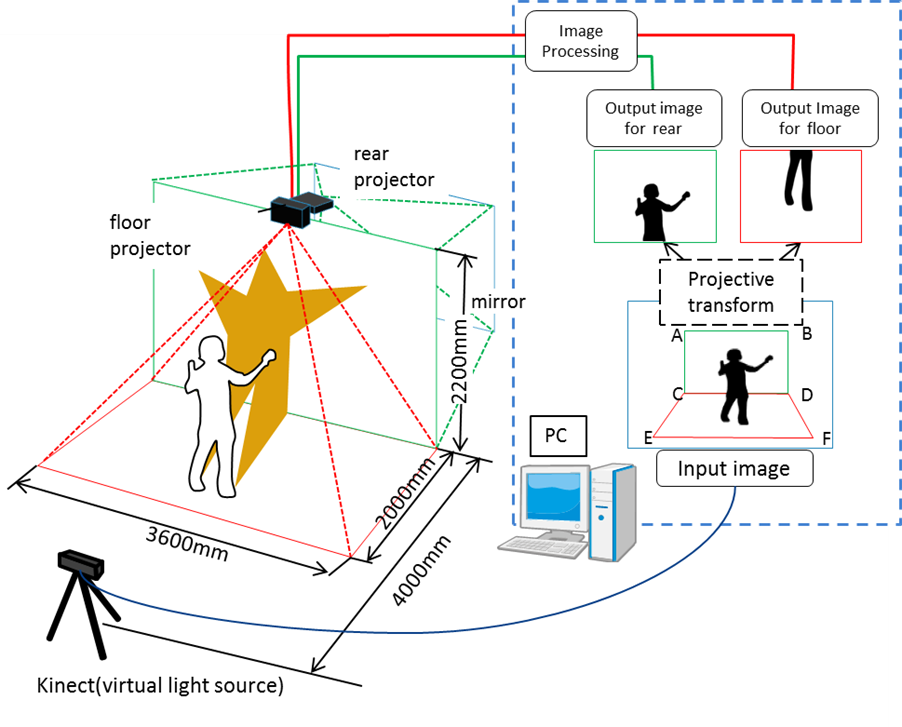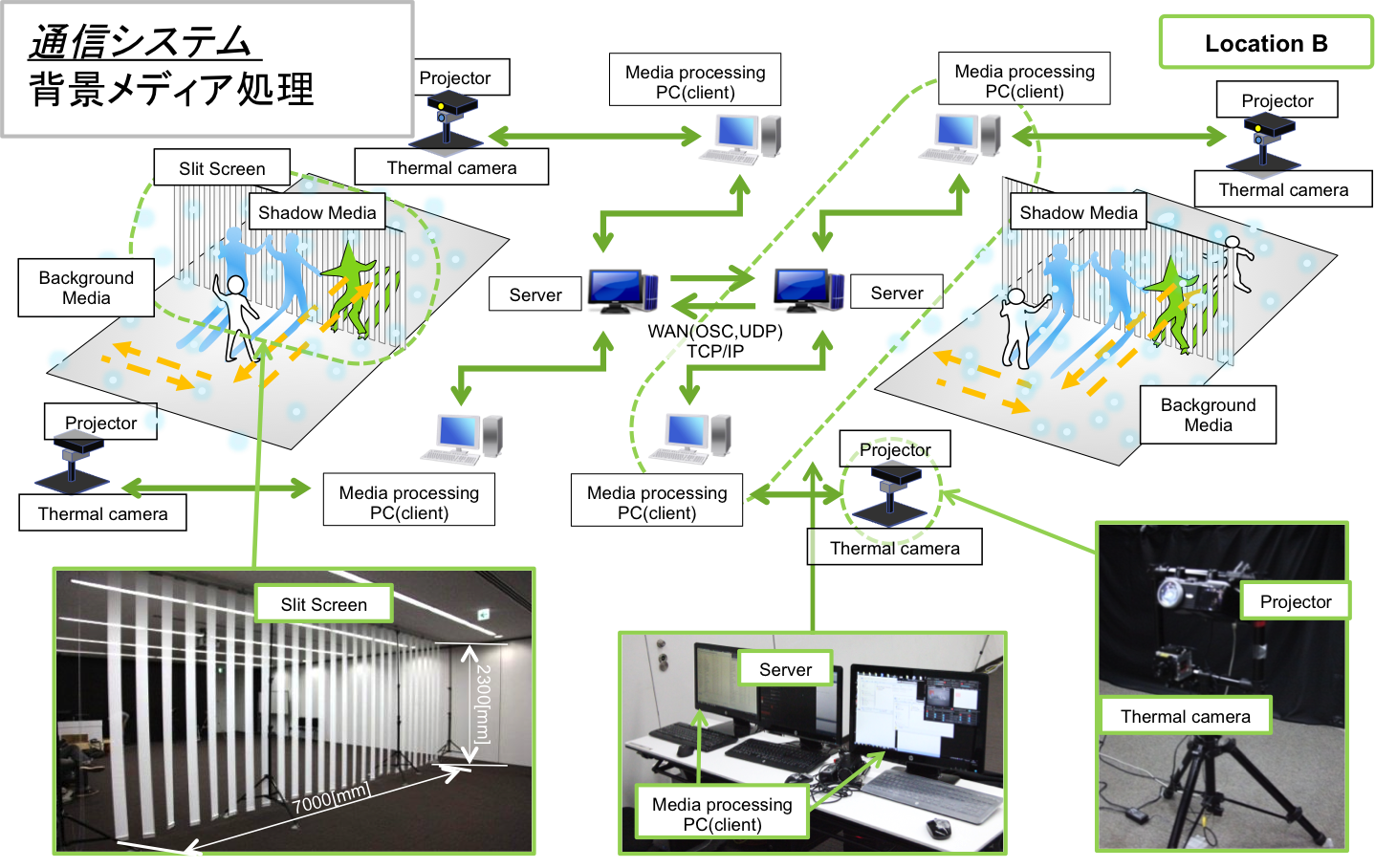 Shadow media workshop in Ishinomaki and Higashi-Matsuyama
With hopes to draw out the imagination of performers and introduce new possibilities for people to communicate with each other more openly, a demo shadow media class called "Meeting and Connecting through Shadows" was carried out at the Ishinomaki Special-Needs School in Miyagi Prefecture on June 24. This event was the first of its kind where over 10 students who have severe developmental disorders have participated. In the school's gymnasium, Professor Miwa and his group set up the device and held three 1-hour sessions for elementary and junior high school students. The students and facilitators were excited by the shadow media installation as they moved around with excitement and exercised their creative minds.
Professor Miwa commented that, "This demo class was a huge success. It has been 14, 15 years since I started research on shadow media, but this was the first time I have encountered such a precious moment. Observing the children become more animated as the session went on was very impressive. The teachers seemed very surprised to see lively behaviors of children in which they do not see in their daily lives."
After this demo class, Professor Miwa held the same demo class in Ishinomaki and Higashi-Matsushima City's community workshops, and he felt the workshop immediately became a playground for everyone, regardless of their age and or disabilities, when they were expressing themselves through their shadows. "Overall," Professor Miwa said, "this has been such a magical time. There were so many miracles, such as a mute child speaking up. The past two days have been emotionally moving."
In the future, shadow media is anticipated to open new doors in the field of self expression and communication technology, especially for children with disabilities or autism.
Related Links
Links