Twenty-one participants graduate from 30th EU Executive Training Programme at Waseda
Thu, Nov 12, 2015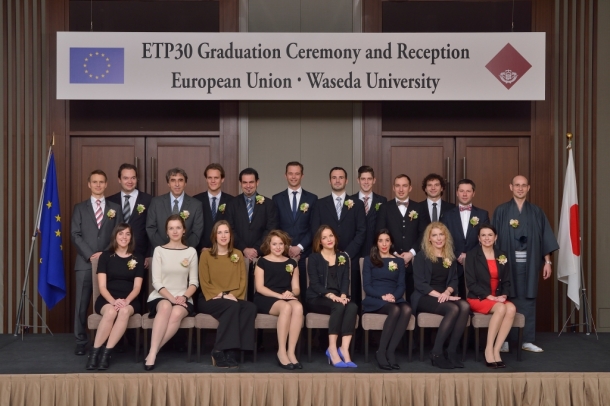 The Graduation Ceremony and Reception for the 30th EU Executive Training Programme (ETP) in Japan was held at The Palace Hotel Tokyo on Thursday, November 5th, and attended by more than 300 guests. The programme is funded by the EU and currently operated by Waseda University.
Established in 1979, the ETP is a professional development programme managed by the EU with a history of more than 30 years. The programme targets EU companies and business professionals looking to enter or expand their business into the Japanese market, providing training on how to conduct business in Japan. After operating the 25th – 27th cycles of this prestigious programme from 2006 to 2010, Waseda University continued to run the 28th – 30th cycles from January, 2013. After spending seven months at Waseda University studying Japanese and learning about Japanese business, the 21 participants from ETP30 went on to complete their internships in 27 different companies.
The event was attended by H.E. Mr. Viorel Isticioaia-Budura, Ambassador of the European Union to Japan, President Kaoru Kamata from Waseda University, Mr. Hiroaki Ishizuka, Chair of the Committee on Europe at Keidanren, as well as a delegation from the European Parliament, led by Mr. Bernd Lange, Chairman of the International Trade Committee, and accompanied by Mr. Petr Jezek, Chairman of the Delegation for Relations with Japan.
During the ceremony, President Kamata addressed the graduating participants, "I am confident that your newly acquired language and business skills, along with the precious experiences and relationships you have gained during your internship and your time in Japan will help you to act as a bridge between the EU and Japan and serve you well in the years to come."