Four years since 3/11
Fri, Mar 13, 2015
Four years have passed since the great east japan earthquake caused unprecedented destruction and suffering. At 2:46pm, the same time the earthquake struck on 3/11, Waseda University flew its flag at half-mast and rang the Okuma Auditorium's bell to mourn for victims of the natural disasters and pray for reconstruction of afflicted areas.
Shortly after the disaster, Waseda established the Office for Aiding Reconstruction from the Great East Japan Earthquake which focuses its efforts on providing scholarships for students from affected areas, volunteer and donation activities, and promoting research to support reconstruction efforts. It is thanks to the support of the Waseda Supporters Club which donated approximately three hundred million yen (approximately 2.5 million USD) that we have been able to carry out these extensive support and reconstruction efforts. We will continue supporting those affected this year.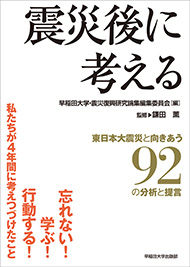 Details regarding Waseda's education, research, and other reconstruction efforts will be published in a compilation of essays entitled "Reflecting on 3/11: 92 Analyses and Proposals" (unofficial title) by Waseda University Press.
The Hirayama Ikuo Volunteer Center which has been involved in continuous relief efforts for affected areas is continuing its memorial program established last year, "Memories from 3/11."
Message from President Kamata
As four years come to pass since the great east japan earthquake, I would like to take this opportunity to send my prayers and thoughts to all victims affected by the 3/11 disasters.
Waseda University has and continues to support affected areas by providing scholarship initiatives and promoting reconstruction related research. This support is not only a means to restore affected areas through communal cooperation, but has become an opportunity for students and staff to gain awareness regarding the 3/11 aftermath.
Waseda's initiative for the future, Waseda Vision 150, emphasizes the need for education systems and structures that consider the earthquake's effects and promote next generation earthquake resistance technology. We are doing our best to use these disaster-prevention and education initiatives to advance society.