2016 Key Researchers Development Program
Seven researchers from the Key Researchers Development Program at Waseda University presented their projects at the Research Enhancement Head Office meeting on April 13.
To meet the core strategy goal of "Promotion of Original Research and Improving International Dissemination" under Waseda Vision 150, the strategic plan to establish Waseda as Asia's leading university, researchers selected for the program are accelerating their efforts to become internationally-renowned leaders in respective fields.
In the meeting, Professor Atsushi Ishiyama, who also serves as the Vice President for Research Promotion, explained that these researchers will work together in teams with experienced researchers and have organizational support from the University, such as receiving priority funding and having access to state-of-the-art facilities.
President Kamata opened the presentations stating that, "Waseda University is highly praised worldwide for its well-established academics. There are high expectations for these researchers, so that Waseda could achieve such reputation as a research university. Because the presentations by the researchers from the program last year were extremely intriguing even for those who are not studying the subject, I decided to make the presentations open for everyone to attend."
The following researchers spoke at the meeting (in presentation order).
Akie Iriyama, Associate Professor, Faculty of Commerce
Iriyama Frontier of Academic Business Research
Professor Akie Iriyama presented his research interests on non-market strategies for businesses and team creativity.
Professor Iriyama's research illuminates the international development and spread of management studies with a focus on three topics. The first is the theoretical research about management theories and empirical research using statistical methods, based on a new research field in management known as "non-market strategy" of business. To be precise, he is analyzing bribery as a non-market strategy of businesses in China and India. The second topic is the empirical research on factors affecting performance of creative teams using big data. Specifically, he is studying what the factors of producing big hits in music have been since the 1970s, by statistically analyzing data from Oricon Inc., a major holding company that provides statistics and information on music/the music industry. Lastly, he is working towards spreading knowledge on global-standard management to ordinary businessmen in Japan. There was an engaging discussion among researchers when Professor Iriyama spoke about "Composition and Intra-personal Diversity in Composition."
Moreover, Professor Iriyama has been gaining exposure on various business media outlets in Japan recently. He explained that outreach was important to boost the profile of Waseda University in the management field. Professor Iriyama is dedicated to becoming a researcher that bridges academics and the industry through producing outcomes in management research at the global level and sharing his knowledge with the general public.
Jun Kataoka, Professor, Faculty of Science and Engineering
MAKING THE INVISIBLE VISIBLE – Frontier of Radiation Imaging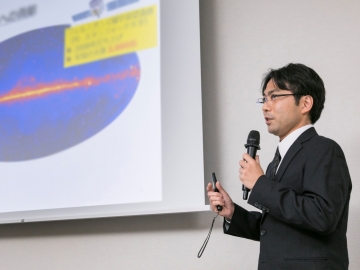 Professor Jun Kataoka presented his research which focuses on the development of high-resolution radiation-imaging devices for space science, medicine and industries in the future.
His research outcomes are the driving force behind international research projects such as Astro-H and Fermi satellites in high-energy astrophysics. At the same time, his developments in cutting-edge radiation image sensors created for space science make a difference in society. Ranging from X-ray CT, non-destructive baggage inspection, and to decontamination efforts in Fukushima, demands for radiation-imaging devices are on the rise. However, the fact that radiation is invisible fans fear, and due to its technicalities and difficulties in handling, this technology has not quite spread yet.
For over 20 years, Professor Kataoka has been involved in innovating devices loaded on satellites and is leading a number of projects, such as the world's first radiation detection in space using APDs (avalanche photodiodes). He expects to make a breakthrough in the medical field by applying this technology for multicolor CT imagining, enhancing PET devices useful for early cancer detection and real-time monitoring of the radiation visual field in proton therapy. Furthermore, Professor Kataoka is developing a compact gamma-ray camera of a few hundred grams which can be used like a digital camera. He stated that he would like to lead the three fields of space science, environmental studies and medicine with his cross-disciplinary research on visualizing radiation.
Yasuyuki Todo, Professor, Faculty of Political Science and Economics
Networks and Economic Growth Project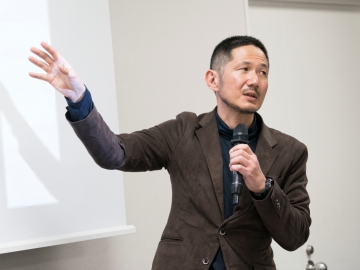 Professor Yasuyuki Todo conducts various empirical experiments to advance economics and network science.
"What kind of social and economic networks are effective for economic development and growth?" After posing this question, Professor Todo used all kinds of data from developed, emerging and developing countries to explain how social and economic networks are built, and how technology, information, money and emotions transfer through such networks, affecting economic development and growth. Professor Todo also mentioned various indexes derived from scientific methods in his presentation, such as supply chains of 57,000 of the world's major companies, supply chains between Japanese businesses as well as Japanese and international firms, capital ownership networks of global firms, and collaboration networks for patent applications. In conclusion, Professor Todo stated that these results illustrate how networks influence actions of businesses and individuals in various ways, showing that diverse connections especially improve performance. Conversely, closed connections that are strong could bring negative effects on society. Additionally, he pointed out the possibility of humans inherently seeking to build diverse connections, but how such mechanism leads to optimum solution in terms of market equilibrium is unknown. Professor Todo intends to elucidate this in his future research.
Hiroyasu Iwata, Professor, Faculty of Science and Engineering
New Developments in Human Assistive Robotics Technology to Expand Physical Performance and Functions
Professor Hiroyasu Iwata presented his research on human assistive robotic technology, based on minimally invasive movements and perception assistance. At the beginning of his presentation, he projected a photo of a robot holding a person in its arms, pointing out to the possibility that with such assistance, humans could become lazier. Professor Iwata emphasized the importance of using robotics technology so that humans will not degenerate, by expanding and stimulating abilities and physical functions of a person.
Furthermore, Professor Iwata is currently conducting research and development in broad areas of rehabilitative assistive robotics technology, medical robotics, intuitive human interfaces so that robotics technology could be used naturally like arms and legs, and bio-nanoelectronics for developing biometric devices. He is leading efforts to derive a methodology for supporting the foundation of Japan, a country known for healthy longevity, with robotics technology.
Professor Iwata showed different videos related to his research to the audience, and explained that his research could improve the symptoms and quality of life of the elderly who trip easily due to foot drop and stroke patients who cannot turn left because of hemispatial neglect, by using optimally combined functions of the robotics technology mentioned above in addition to motor learning methods.
Lastly, Professor Iwata stressed that the essence of rehabilitation is in relearning. He looks forward to establishing a society in which the fundamentals of robotics technology can train physiological senses and physically stimulate the body. This could be accomplished by understanding defects of the body to induce the best posture/movement conditions and repeatedly teach these conditions.
Yasuo Kawakami, Professor, Faculty of Sport Sciences
Comprehensive Research on Muscle-Tendon Characteristics and Its Plasticity – Establishing Effective Training Methods in Relation to Physical Performance
Professor Yasuo Kawakami conducts in-depth analysis of the functional, structural, and material characteristics of skeletal muscles and studies the mechanism of muscle-tendon complex damage/healing, in addition to how to improve and support physical abilities of humans. He also leads a project revitalizing the elderly in Japan.
He is committed to addressing crucial issues of Japan's super-ageing society, such as extending healthy life expectancy, helping the elderly become physically and socially independent, and the decreasing number of caregivers. Furthermore, he is working on designing fitness programs which are effective and achievable for people of all ages, from children to adults. Moreover, he has found hints to improve athletic performance by elucidating the physical features and distinctive movements, in terms of muscle-tendon characteristics, of people with high athletic performance such as top level athletes. These results do not only contribute to research related to sport and health sciences, but they dramatically advance the development of ergonomics research and innovation of sporting goods. They also improve teaching methods at athletic sport centers and P.E. classes at schools, providing effective advice for sport instructors and for the elderly who struggle with locomotive syndrome.
Lastly, Professor Kawakami emphasized that his areas of research are important for Japan and other super-ageing societies around the world, advocating for healthier lives of humans.
Hitoshi Kurumizaka, Professor, Faculty of Science and Engineering
Kurumizaka Structural Basis of Epigenetics Project
Professor Hitoshi Kurumizaka presented his research based on structural biology (unveiling the crystal structure of chromatin), biochemistry and molecular-biological analysis.
At the beginning of his presentation, Professor Kurumizaka explained how his epigenetics research has been systematically passed down from preceding researchers and how it has developed based on historical discoveries over the years. Moreover, Professor Kurumizaka is committed to studying unique nucleosome structures, which could help understand histone abnormalities observed in cancer cells and develop new drugs. He explained that his research provides crucial and fundamental information for regenerative medicine and cancer drug development, influencing society in the medical/pharmaceutical and business fields.
Recently, his research paper, "Crystal structure of the overlapping dinucleosome composed of hexasome and octasome" (University news on this research here) was featured in Science, and Professor Kurumizaka garnered media attention when he held a press conference at MEXT. In order to unveil the crystal structure of the overlapping dinucleosome (which is created when reading genetic information), Professor Kurumizaka reconstituted overlapping dinucleosomes in vitro. Using these, his research group conducted x-ray diffraction experiments at SPring-8, a large-scale synchrotron radiation facility, becoming the first in the world to visualize the crystal structure of an overlapping dinucleosome.
Lastly, Professor Kurumizaka expressed his motivation to become a leader in the field, and as an emerging leader, to further progress his research and continue publishing papers.
The following researchers have also been selected for the Key Researchers Development Program.
Yasushi Sekine, Professor, Faculty of Science and Engineering
Sekine Ionic Catalyst Project
Nozumu Tokugawa, Professor, Faculty of Science and Engineering
Togawa Internet of Things (IoT) Integrated System
Gracia Liu Farrer, Professor, Faculty of International Research and Education
Farrer International Labor Migration Project

Lastly, University Vice President concluded the meeting saying that he was moved to hear the presentations, feeling the university close to his heart. "I look forward to these researchers increasing the presence and raising the reputation of Waseda in the world."