B.P. (Student Staff Leader)
Before coming to Japan, I volunteered constantly for different kinds of organizations with different specializations, such as volunteering for indigenous people, children, a men's prison, abandoned animals, and so on. However once I arrived in Japan, the language barrier was so big that I couldn't volunteer as much or was scared especially with the lack of communication.
On December 2nd, I hosted the ICC Volunteer Workshop, which brought the volunteering activity to the Waseda students, and it was supported in both Japanese and English, welcoming students who lacked the Japanese skill that I did before.
For this event, I invited Ashma Koirala, a representative of Hands on Tokyo, to present about Hands on Tokyo. I especially chose Hands on Tokyo because of the international environment they provide with their activities. For Hands on Tokyo, language barriers are no longer a problem in the Japan volunteerism sphere. This presentation allowed participants to be introduced to an organization that  motivated  Japanese and International individuals alike to work together with their mutual passion of volunteering.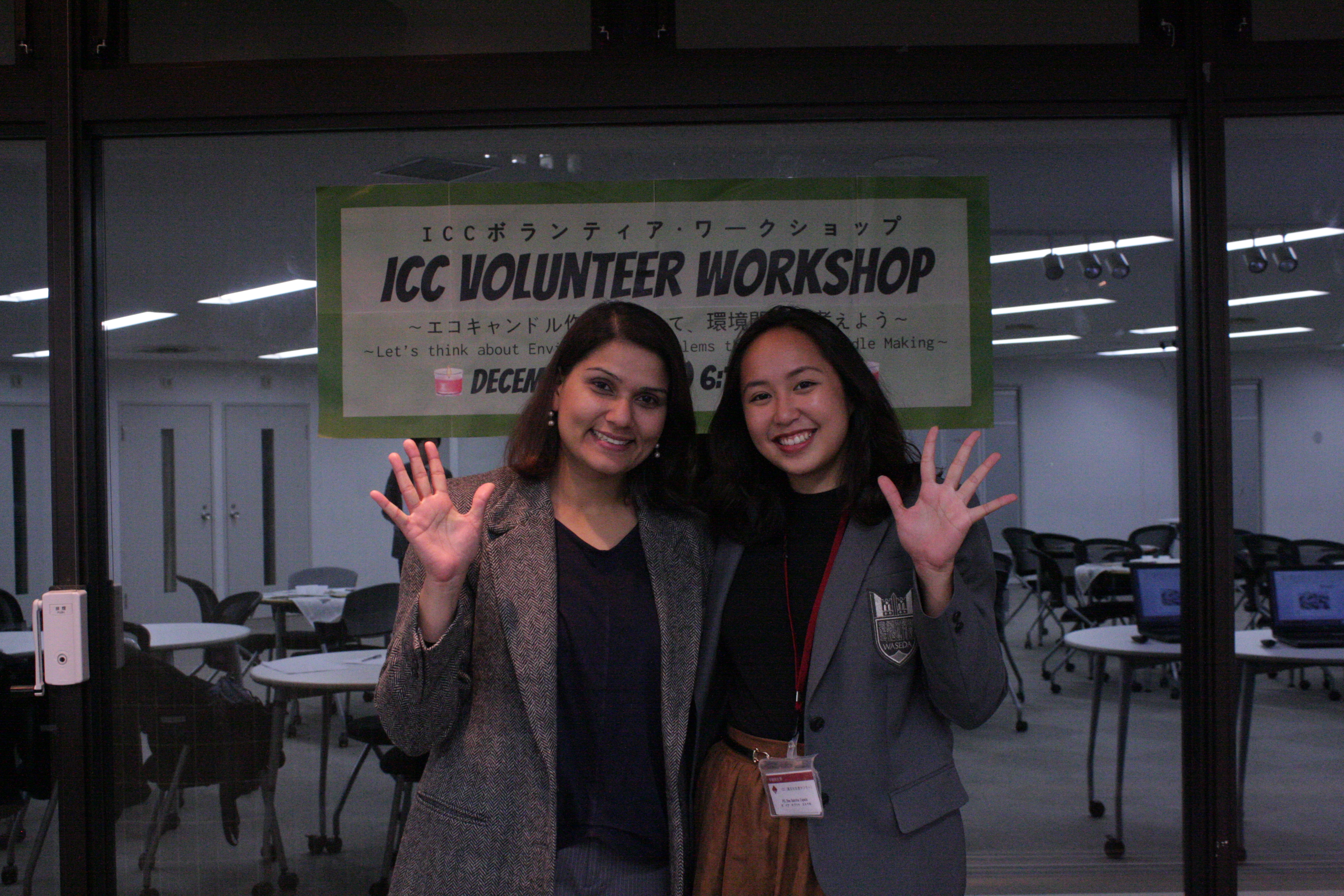 Ashma Koirala spoke beautifully during her presentation, and I saw many students, especially international students' interests being sparked. I am sure many of the participants had felt the language barrier problem too because by the end, Ms. Ashma received many registrations to be involved in Hands on Tokyo.
Next, I wanted the participants to experience volunteering first-hand. The theme for this volunteering was the Environment, a very upcoming and relevant problem of today. Environment Rodorigues is an official Waseda student circle that specializes in tackling environment problems through volunteering, and with their cooperation, they conducted an Eco Candle Activity.
Environment Rodorigues used  old oil as the wax of the candle, where they  used old crayons to change the oil into different colors. This wax filled empty plastic cups, which were also recycled from elementary school students' previous lunches. Then a string was inserted to, hung by a stick, and then later dried, the stick is removed, creating a candle.
My goal of this event, besides exposing volunteerism, was also to create intimacy between the participants and the supporters. Intimacy creates more personal experiences and adds more meaning to the event. I think I achieved this because all the participants seemed to enjoy the activity, and it really helped that the other SSLs encouraged conversation between participant tables. Even Hands on Tokyo representative, Ashma Koirala, joined in the activity, being a part of the many eco-candle making groups.
This event also did make me reflect about my effect towards the environment, and how many things can still be reused if you just apply some innovation! I would like to encourage more Waseda students and people in general to give back to their communities, whether it is through environmental work or other ways. Joining volunteer organizations can really expand your horizons and add meaning to your life, while being able to meet new faces.