The Waseda Shogekijo Drama-kan Theater is a small theater run by Waseda University.
In the past, a small theater founded by internationally-acclaimed stage director Tadashi Suzuki (1964 graduate of the Waseda University School of Political Science and Economics) and others stood on Nanmon Street along the campus. The theater, which was called Waseda Small Theater, produced numerous famous works as the center of the small theater movement of the 1960s. After Suzuki moved his base of activities to Toyama Prefecture in 1976, the theater was renamed Waseda Drama Theater and became a private venue. Later only, the theater was acquired by Waseda University and produced many theater professionals as a base for theater club activities.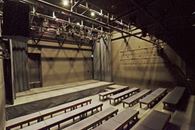 Eventually, the theater was demolished in October 2012. Even so, many people continued to call for a new base to host the history and tradition of Waseda student theater. Based upon approval received from Suzuki, the theater was rebuilt in 2015 under the name of the Waseda Small Theater Drama-kan.
Construction was completed through the support of stage staff who once used Waseda theater facilities and are now active in the front line of theater. Thorough discussion was held for all facets of the theater, including the layout of each floor, the stage, audience seating, dressing rooms, reception space, and booths. Furthermore, detailed comparative analysis was repeatedly conducted with highly-regarded theaters both in Japan and abroad. Thanks to these diligent efforts, despite being a small theater with seating for only 72 audience members, the theater features design that ensures safety, easy guidance of theatergoers, and easy transportation of equipment inside the facilities. Down to the most minute detail, Drama-kan shows consideration for students who will use the facilities. Indeed, many people have expressed delight at the highly-refined design which is sufficient for professional productions, let alone university theater activities.
Furthermore, in order to clearly differentiate the Drama-kan from normal educational facilities on campus, the theater has an economic activity system in which students can charge a fee for viewing performances (the theater is available for student use at no charge). Students gain motivation from the process of creating a theatrical production and accumulating performance income which results from having society judge their work. This system also has the major benefit of fostering autonomy and the ability to act among students. Moreover, Drama-kan is a university theater which is supported by faculty and staff, professional alumni, and leading theater experts. This makes it possible for the theater to operate as a large-scale educational project.