NAGASHIMA Masaru, Assistant Professor
Free antiviral treatment and condoms offered by the government
Botswana, a landlocked country in southern Africa, has about 2.3 million people living in an area roughly 1.5 times that of Japan. One major challenge for the country is the spread of HIV/AIDS. Although the HIV infection rate is gradually declining, the infection rate in adults (15–49 years old) is estimated to be 21%. The government of Botswana has been strongly promoting HIV/AIDS countermeasures.
Specifically, since 2002, an antiviral drug treatment called ART has been offered free of charge to reduce the number of AIDS-related deaths, and condoms (for the prevention of HIV infection) have been distributed via publicly installed dispensers in selected regions since around 2005 (Fig. 1-1, Fig. 1-2). I am conducting a research project to examine the impacts of these policies from the perspective of development economics, focusing on the possibility that those impacts may have been interacting.
People living with HIV are likely to die within about five years if their disease is left untreated, but ART treatment from the early stage can help them live an otherwise healthy life, almost as long as that of those without HIV. Consequently, making ART available for free and getting it widely used can greatly benefit people who have contracted HIV. However, if uninfected individuals begin to perceive AIDS as a disease that can be cured free of charge, public fear of HIV infection may decrease, leading to a reduction in the use of preventive measures such as condoms, and eventually to an increase in the number of new cases. Through this study, I aim to compare the costs and benefits of the two policies and draw policy implications for the future.
Mapping medical facilities across the country
Unfortunately, the progress of my research has been slow because of travel restrictions due to COVID-19 infection and delays in the provision of data from a counterpart in Botswana. Under those circumstances, I spent most of 2020 creating from scratch a spatial data set on the country's medical facilities, marking the start date of each facility's on-site provision of ART (Fig. 2).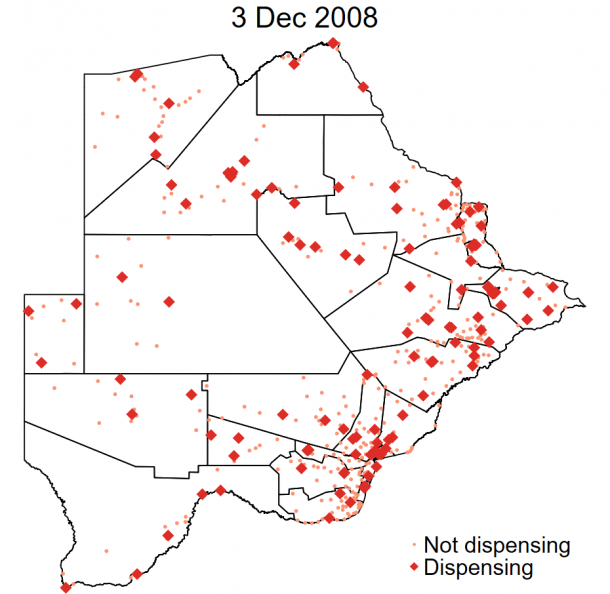 Figure 2. Distribution of medical facilities carrying out ART treatment, 2002–2013
Source: ART Provision Data: Ministry of Health and Wellness, Facility Location Data: Department of Surveys and Mapping of Ministry of Land Management, Water and Sanitation Services, Map: Masaru Nagashima.
It can be seen in Figure 2 that in 2002, when the free ART provision program started, the treatment was available at only four facilities, but by the end of 2013, ART treatment was available at almost all facilities.
I will use these data to estimate the effect of the ART provision policy. However, comparing individuals living in areas close to and far from health facilities may not reveal the policy's effect. For example, people with sick family members, including AIDS patients, may choose to live near a facility; while residents in urban areas, who are likely to have health facilities nearby, may have different opportunities for sexual activity than those in rural areas, and thus have different perceptions of infection risk and treatment. In other words, the people living close to and far from health facilities may differ not just in their access to treatment but also in other characteristics that are likely related to their HIV preventive behaviors. My study attempts to control for these characteristics by comparing those who gained access to the ART at a nearby facility early on with those who got access later, among a population living in similar proximity to a facility of the same level. In that way I can pay a great deal of strong attention to the unobservable characteristics that may systematically vary by location of residence in order to analyze the changes in people's HIV-preventive behaviors when ART treatment becomes readily accessible.
The possible suppression of preventive behaviors by the emergence of new treatments and the addition of those treatments to medical insurance coverage may not be limited to HIV and AIDS. For example, if people gain new knowledge that diabetes can be treated effectively at low cost, some may cease their preventive actions such as exercise and dietary improvement. If new treatments are covered by medical insurance with insufficient consideration of impact on behavior, an unanticipated increase in new cases may substantially increase the total cost incurred by society to the point where the cost exceeds the benefit of treating existing patients. My study has the potential to produce statistical evidence that would be useful for addressing such concerns.
Development economics, the decathlon of economics
Until the 1980s, the mainstream approach in development economics was concerned with the assessment of foreign aid. It employed macroeconomic indicators such as the gross domestic product in examinations of the effects of aid to developing countries. However, since such indicators are influenced by many factors other than foreign aid, appropriate evaluation of the impact of aid by that means alone was difficult. On the other hand, the microeconometric approach, which is designed to strictly measure the change in people's lives as a result of individual projects, has become a powerful analytical tool in development economics. That methodological advancement was driven by labor and health economics analysis of issues in developed economies. However, simply applying the analytical methods used in studies of developed economies may not contribute to a better understanding of developing economies, due to differences in social institutions and economic environment and other factors peculiar to low-income countries. For this reason, we need a specialized approach.
Development economics is, as it were, an economics version of the decathlon: it requires not just mobilization of all the methods of economics but also an understanding of the environment and customs unique to developing countries. It necessitates combining a bird's-eye view of society as a whole and a close examination of each issue, which may make development economics distinct and unique.
I have long been interested in issues in low-income countries. It may all have started from the world map on my desk when I was in elementary school. My interest kept growing as I learned about the challenges faced by low-income countries, including child hunger and large disparities.  My current research interest is on behaviors related to human capital accumulation, since such behaviors can significantly change people's health and education, which are keys to their life-long well-being. With sufficient understanding of those behavioral responses, I aim to identify, through the analysis of actual data, the optimal public policy among the options available for low-income countries.
Interview and composition: Shinya Nakazawa
In cooperation with: Waseda University Graduate School of Political Science J-School