N.M. (Student Staff Leader)
Background
On November 13th, ICC held a talk session event called "AEON's Sustainable Business Development," featuring one of the Executive Officers of AEON Co., Ltd. and the Person in Charge of CSR & Communication; Ms. Kahori Miyake. She has been working for AEON since 1991 and therefore, very experienced in her field and know the DNA of the company really well. For me personally, I decided to ask for AEON's cooperation because AEON is a company that is very familiar to me. I was born and raised in Jakarta, a city known for its terrible traffic jam and countless shopping malls spread all over the town. Near Jakarta, there is a city called BSD City where AEON Mall is located. To me, AEON Mall is not just a shopping center; it is also a place where the locals can experience Japan. As I began to gain more interest in the company, I learned more about the company including its history and philosophy. It is amazing how the company have grown from a small family business, to one of the biggest retailing company in Asia that runs variety of businesses, including thousands of shopping malls, supermarkets, convenience stores, and specialty stores located not only in Japan, but spread around across Asia.
Moreover, I found out that AEON also conducts their business using the CSR concept (Corporate Social Responsibility). CSR business practice itself is also something that I personally have interest on since it has positive impacts on social, economic, and environment thus it aligns with the SDGs (Sustainable Development Goals); a global agenda made by the United Nations to achieve a more sustainable world for every single person in this world by 2030. Since the plan includes 17 goals and 169 targets that address global challenges and problems, it may seem too ambitious and therefore impossible to achieve to some people. Moreover, the fact that there was a similar framework before SDGs that failed to achieve its missions makes people even more skeptical towards it. Therefore, I decided to do this event because I wanted to create an opportunity for people to enrich their knowledge about CSR business practice and learn concrete examples of what a company can do in contributing to realize the SDGs.
Preparation
The actual preparation of this event started in July 2019. However, luck was on my side; I had the opportunity to meet Ms. Miyake in person at an event. At that event, I was casually eating and talking with people until I realize I was actually talking to Ms. Miyake. I was surprised because I was not expecting to meet her, not to mention talking to her. But then I realized that this is the now-or-never chance for me to gather my courage and ask her in person to be the guest speaker of my event. Guess what? I did! To my surprise, she kindly agreed and asked me to send the proposal to her email. I was so excited that I had to keep myself from jumping and singing in the middle of the venue!
After getting approval, I had to proceed on preparing the event and almost everything went pretty smoothly. I was even ahead from schedule because AEON was such an amazingly cooperative partner in organizing this event that they always responded promptly. They even agreed to do a lottery and provided special gifts for our participants. I really admire how professional and thoughtful they are in everything they do, including for university-scale event like this.
D-Day
It was finally D-day of the event after months of preparation! Unfortunately, I was not able to help in setting up the venue because I had classes to attend. This is actually one of the things that could not be avoided for 2 reasons; 1) Most of the time, we have to follow the schedule of our guest speaker and, 2) Usually if our guest reply promptly, the date of the event is decided before course registration is done. Therefore, in cases like this, communicating what I would like my team- who will be in charge in setting up the venue- to do is crucial but at the same time challenging because sometimes, when we thought we have explained clearly, it was not actually specific enough for other people. But I am so grateful because I had people I could rely on to support my event, especially the full time staff who supervised me but at the same time, has always been so trusting by giving me the freedom in doing things.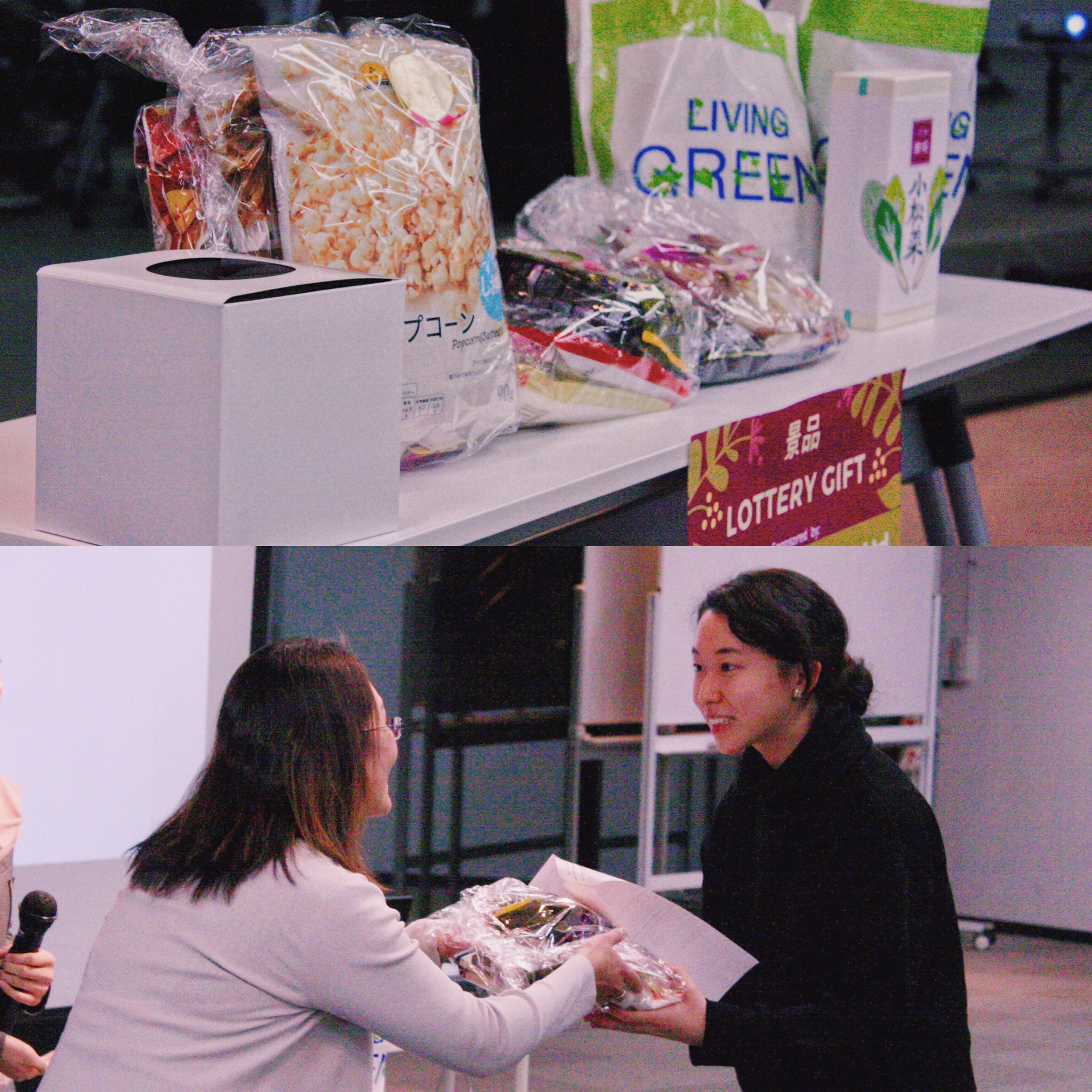 The event went pretty much like other talk session done by ICC; two people as the MC open the event and introduce the guest, then let the guest to have the stage and give a talk about specific topics. After the talk, we had Q&A session and I was delighted to see the participants actively engaged in the event by asking questions to Ms. Miyake to which she attentively answered. To close the event, we also had lottery drawing with special gift sets provided by AEON TopValu Co., Ltd.
Closing
After going through all the agendas, we were able to wrap up the event on time. Even after the event is finished, there were many people who stayed and lined up to talk with Ms. Miyake in person. This shows their deep interest in the topic, the company, or even our guest speaker and I, as the event planner, felt so happy seeing it. I thank every single person who gave me the opportunity to do this event. Through this experience, I learned a lot of things and I will continuously try on improving myself for other events to come.