Y.G (Student Staff Leader)
Do you know what day is 5th February in 2019?
It was Chinese New Year, which is called the Spring Festival as well. To pre-celebrate Chinese New Year, ICC held an event, "Let's celebrate Chinese New Year" at the ICC lounge in January. As event proposer, and also an International student who has studied abroad for six years, I wanted to take this opportunity to promote Chinese New Year culture to more people because it has special meaning to me.
There are many traditions during Chinese New Year which are interesting, and some of them are still kept till now. In my family, we will buy food, snacks, drinks, and decorations before the New Year as the preparation. Then we decorate the living room with red lanterns and Chinese knots and decorate the door with the character Fu and couplets, which are two red long papers with complementary poetic lines. The pictures below are what my grandma's house looks like during Chinese New Year. It looks festive, right? The red stuff in the picture at the right hand side is firecracker residue. The firecracker in red is always used during Chinese New Year because red has a good meaning and symbolizes good fortune.
On Chinese New Year's Eve, I will have dinner with my big family, not only with my parents and also my grandparents, aunts, uncles, and cousins. My family always prepares a large table of dishes, including dumplings, and it is impossible for us to finish it that night, so we usually keep it till the second day. So what Chinese New Year to me when I was young is that I have endless delicious dishes during that period. I keep these traditions even though when I studied abroad because I really enjoy that environment. I also decorated my room before Chinese New Year and prepare a table of dishes on Chinese New Year eve, like this.
New Year's Eve dinner prepared by me and my roommates
Living room decorated with Character Fu, couplets and red lantern. The couplets were supposed to be on the sides of the door. I put it here because there is no space around the door of the house
Also, there are many more traditions like this during Chinese New Year that I'd like to share with you. So I did this event, and invited Professor Yang from SILS in Waseda University, to introduce more about the Chinese New Year and its culture to us. There was a quiz following the presentation which was designed by me and other supporters for deepening understanding about the Chinese New Year. It was glad for me that most of the participant got the correct answer!
During the calligraphy workshop, participants tried to write character Fu or couplets on special red papers, Xuan Paper. It is thinner than normal paper and has a smooth surface. A Chinese couplet is a kind of poem but shorter than a regular one. It has a pair of lines of poetry which adhere to certain rules. Participants could copy the samples we provided, or they could make their own couplet. And also we found many calligraphers here! They are all really good at writing with a brush which surprised me.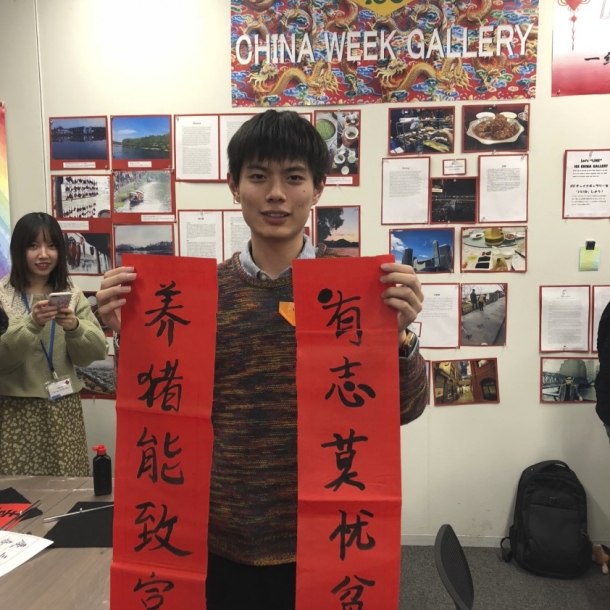 I know I could not introduce everything about Chinese New Year to everyone through this short event, but I am really glad that there are so many people want to know more about it. Thanks again to all the participants, supporters and friends who gave me support on this event.