Working to prepare medical support services and doping tests since 2015
In my role as Medical Director to the Tokyo Olympic/Paralympic Organizing Committee, I am responsible for the preparation and management of medical support and doping tests. I was appointed as medical director in April 2015 so I have been working in this role for close to five years now.
I have accompanied the Japan national team to the Summer Olympic Games in Athens, Beijing and London as the team doctor. I was also appointed by the IOC (International Olympic Committee) to oversee the local management framework for medical support at the Rio de Janeiro and PyeongChang Olympics.
The number of medical staff providing medical services at the Tokyo Olympic/Paralympic Games will total over 10,000 people. These personnel are required to provide medical support to the athletes at the athlete's village and event venues, and also provide a range of medical services to Games staff, media personnel and spectators that make their way to the various venues.
The Olympic/Paralympic Games are managed on the back of the cooperation of a large range of people, with medical staff working at each of the event venues providing medical support to the athletes and universities and hospitals providing medical services to spectators. I have been working to establish this medical support framework in preparation for the Games.
We are running a variety of training, such as providing first aid to people with heatstroke.
[Practicing to move a patient on a stretcher.]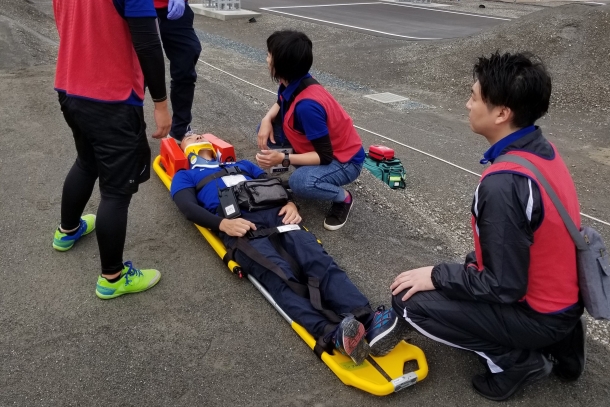 While the medical staff providing support at the Games are all qualified medical personnel, including doctors and nurses, etc., the work they will be required to do will differ to their day-to-day jobs therefore we are running a variety of training programs in the lead up to the Games.
For example, there is a strong focus on measures to address heatstroke at the Tokyo Olympic/Paralympic Games. As a result, internationally recommended first aid procedures will be used. Internationally recommended first aid procedures for heatstroke differ to those commonly used in Japan and involve immersing the entire body in water between 5-15 degrees Celsius and monitoring body temperature through the rectum. However, there are very few medical personnel in Japan who have experience in these first aid procedures. As a result, we have been implementing training courses with the help of Yuri Hosokawa from the Faculty of Sport Sciences, Waseda University. Having specialized in the study of international first aid in the United States, Yuri has been providing assistance as an advisor.
I have also been checking medical supplies and equipment, staff and the management framework at competitions being held at Olympic/Paralympic Games venues as test events. The Olympic/Paralympic Games will be broadcast on television all around the world, making it necessary to provide prompt and appropriate transportation to medical facilities in the event an athlete is injured or becomes sick. We are also making careful preparations for emergency operations, making sure that athletes are secured onto a stretcher ready for transportation within three minutes of a problem occurring.
Using saliva to measure immunity levels to manage body condition
[Polyclinic providing medical services at the athlete's village.]

It is possible to manage body condition by looking at immunity levels, and this is something that was also used by the Japan national team I accompanied to the Olympics in the past. A swab of the athlete's saliva is taken to look at the levels of secretory immunoglobulin A. The chances of catching a cold increase when the level of secretory immunoglobulin A falls lower than 30% or more than usual, making it necessary to take measures such as limiting the intensity of training sessions.
There are three main causes behind athletes feeling unwell during competitions, such as the Olympics. The 1st is colds, 2nd is gastrointestinal-related illness with skin related disorders coming in 3rd. As a result, measures to prevent colds are extremely important for doctors of professional sporting groups. Many people may think that athletes' bodies are robust and less susceptible to colds. However, athletes performing high intensity training are, compared to your average person, more likely to have lower immunity levels and care needs to be taken to maintain body condition.
Testing immunity levels from athlete's saliva used to require large equipment and could only be performed in laboratories in the past. However, the development of a compact testing device through a project run by MEXT will mean that Japan will have access to this technology before other countries to maintain the physical condition of their Olympic team.
It is ideal, like in this case, that the fruits of scientific research can ultimately be used in the field. Although I do teach students about athlete conditioning through the monitoring of the immune, endocrine and autonomic nervous systems, in my classes and seminars at Waseda University, I also advise them to consider how their study and research can be used or applied in real life.
I invite everyone to learn more about the value and attraction of sport.
[He was also an observer at the 2018 PyeongChang Olympics.]

The value of sport has an important significance in society today. I would love to see more people learn about the attraction of sport together with us.
While I specialize in internal medicine in the field of sports sciences and anti-doping, the Faculty of Sport Sciences at Waseda University is also home to top class teachers in a broad variety of sporting fields, including orthopedic surgery.
Further, I believe it is necessary to convey why doping is unacceptable, not only to top athletes, but also to broaden this understanding to young coaches. There are a large number of students who study sports sciences that go on to coach a variety of sports. It is my hope that all they learn during their university years can make a contribution to sport and society as a whole.
[Profile]
Takao Akama
Born in Tochigi Prefecture in 1957. Professor, Faculty of Sport Sciences, Waseda University.
Graduated from the School of Medicine and Medical Sciences, completed doctoral program at the Graduate School of Medicine, Tsukuba University.
Japan's leading sports physician. Accompanied the Japan national team to the Athens, Beijing and London Olympic games as team doctor. Professor, Faculty of Sport Sciences, Waseda University from 2006. Medical Director to the Tokyo 2020 Olympic/Paralympic Games Organizing Committee. Vice Chairman of the Japan Anti-Doping Agency.