Appointed to the physical coach of the Japanese women's football team in 2008
Over ten years have passed since I became physical coach of Nadeshiko Japan (the Japanese women's football team). Along with increasing the agility and power of the players, my role is to get them in condition and raise fitness levels by appropriate prevention of injuries and other methods.
I engage in various activities to support the players, such as thinking about the physical training conducted within training overall and programs for fatigue recovery after matches, checking on the condition of the representative players in the Japan Women's Football League, and preparing programs for each player to work on individually.
The first thing I worked on after becoming the physical coach of Nadeshiko Japan was quantifying athletic abilities such as endurance. After measuring each player's data and clarifying their strong and weak areas, I prepared a training program for each one. The thing I emphasize in my programs is extending the strengths of the players. I have to raise the areas that are issues for each of them to the minimum level of course, but soccer is a team sport so extending the strengths of each player is important.
Also, I clarified the strengths and weaknesses of Nadeshiko Japan as a team by analyzing matches. The accepted opinion at the time was that Japan's female soccer players had more endurance compared to overseas players. However, when I tried analyzing the matches at the Beijing Olympics, where the team finished in the top four, I could see that the strength of the Nadeshiko Japan players dropped when they reached the last fifteen minutes of the second half. Their endurance to run slowly for a long time was high, but they did not have enough of the "speed endurance" required to sprint repeatedly.
With the issue of the Beijing Olympics clarified, I think I can say that being able to work effectively on the physical strengthening of things like speed endurance and agility was also a big factor in their being able to win the Women's World Cup in Germany in 2011 and taking second place at the London Olympics in 2012.
Towards Olympic victory with the team launched in 2016
After Asako Takakura was appointed to the head coach, Nadeshiko Japan became a new team in 2016. There is half a year remaining before the Tokyo Olympics and each player is working on physical improvement.
Partly due to the impact of European women's soccer going professional, the physical level of the female players has increased globally. In such circumstances, Nadeshiko Japan cannot stop being the best in the world in terms of speed endurance and agility, their strengths. Two years and a half have passed since the launch of the new team and looking at the figures, each player's abilities have grown greatly. The representative team's players are greedy to grow and also have the ability to understand and overcome their own issues. They will surely be able to grow further as a team towards victory at the Olympics.
I want students to acquire the ability to create new value
Something that is not limited to female players is that as the physical level of players increases, they actually get more injuries. The strength of practice increases so they will get injured if prevention is not implemented firmly.
In order to change such a situation, we need to promote the creation of an environment within which players can work on appropriate physical training that prevents injuries from their junior high and high school days. There are currently about 6.5 million junior high and high school pupils in Japan and I am promoting efforts to provide them with appropriate environments in collaboration with the teaching staff of the Faculty of Sport Sciences.
Also, I am cultivating athletic trainers who can provide appropriate programs through classes and seminars here at Waseda University. Athletic trainers require a wide range of knowledge. We call learning that researches expert theories and knowledge in sport "athletic training science" and everything that athletic trainers are responsible for are the themes of my classes, including "how to prevent injuries," "how to treat injuries" and "how to guarantee the security and safety of the athletes." I am also conscious of making this a class in which students can study independently by holding work groups, discussions and practice positively.
In addition, I think that in my seminars, I want the students "to know how to study." For example, any shortfall in knowledge is made clear when a student creates a condition management program for a certain athlete and I check that program. And, I can also provide advice on the method for acquiring the missing knowledge. I think that while learning like that, students acquire the "method for learning the knowledge they need" and I would like them to develop into athletic trainers who can produce new value.
If you aim to be an athletic trainer, clarify the environment you want to be active in
I would like people who think they want to become athletic trainers in the future to establish clearly what kind of environment they want to be active in. Do they want to be active at a pro team, as a personal trainer or even at a school? Working sincerely on your own activities every day towards a goal that you have established clearly will surely lead to growth.
We have an environment at the Waseda University School of Sport Sciences within which students can learn while engaging in friendly rivalry with their excellent fellow students. Specialists in various fields are lined up among the faculty who teach here. I think this is a truly blessed environment for aspiring athletic trainers, who have to study a wide range of knowledge rather than master just one thing. And, having lots of places of activity where students can be active as student trainers or look on as observers such as club activities and sports medicine clinics is also a big advantage.
It is said that "Where there's a will, there's a way" and I think that if somebody wants to become a trainer seriously they will definitely be able to do so. Please work on the things in front of you with 100% of your power and carve a path for yourself step by step.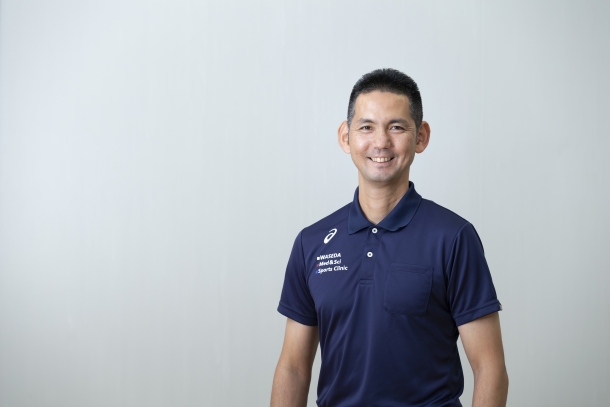 [Profile]
Norikazu Hirose
Born in Hyogo Prefecture in 1974. Professor, Faculty of Sport Sciences, Waseda University.
Graduated from the School of Human Sciences, Waseda University, completed the doctoral program of the University of Tokyo Graduate School.
Worked as the physical coach of soccer players from junior to youth level at Tokyo Verdy, Nagoya Grampus, Kyoto Sanga, JEF United Ichihara Chiba, etc. Physical Fitness Project Member by the Japan Football Association since 2006, appointed to the physical coach of the Japan women's football team in 2008. Contributed to victory at the 2011 Women's World Cup and second place at the 2012 London Olympics. Specialist areas are athletic training, trauma / disorder prevention, growth and development. Accredited Japan Sport Association Athletic Trainer.