From Tashkent, Uzbekistan
Name
ABDURAKHMONOVA Rukhsora
Where are you from?
I am from Uzbekistan, Tashkent.
Where did you graduate from?
I graduated from Ritsumeikan APU (Asia Pacific University), Oita, Japan.
-B.A. degree in International Relations and Peace Studies
LL.M. Waseda University
What do you think about Waseda University/ Waseda LL.M.?
Waseda is a great place to concentrate on your research and to build a future career as it is one of the top Universities not only in Japan but worldwide. In terms of location, it is very convenient. You can actually feel how University administration and faculty members have been putting effort for enabling students to have the best atmosphere to study, to live and to do research.
How is your life as a student at Waseda?
Studying at my dream University is very enjoyable and a bit challenging. Since my major during my bachelors was slightly different from what I am studying now. It requires me constantly to do research, to study and to improve my legal knowledge.
When the weather is nice I tend to go to "Okuma Garden" which is located in our Waseda Campus and relax there while learning new Japanese characters (Kanji) and reading some books. Besides that, I am strongly satisfied with all modern facilities such as free printing corners, W space for both group meeting and for individual study, on-campus convenience stores, 24 hours available computer rooms, big electronic online database system and of course a huge number of books collected libraries. All opportunities makes the best study environment.
I am sure, my choice was the best one and I do not regret about it.
How do you like the LL.M. faculty? 
All professors are beyond my expectations. I can say, they are experts of their field. They are always ready to help whenever students have any concerns regarding to the topic and materials. Depending on professor, class atmosphere, teaching style, gradings are different. However in all classes we neither feel embarrassed nor criticized to give our opinions. Comments and feedbacks are always warmly welcomed which breaks ice between professors and students.
How are you adjusting to life in and around Tokyo?
Indeed, Tokyo is undoubtedly a great place to work, to live and to study. Unlikely to Beppu city, where I used to live before for 4 years, Tokyo is totally a new world for me; crowded trains, very lively nightlife, huge number of internationals, variety of shops, restaurants and so on. To be honest, apart from its living expenses, I have not experienced any difficulties to live here.
Where do you live?
I live in a 2DK (2 rooms plus kitchen) apartment with my family. It is located in a very comfortable and environmentally friendly place near to Kodaira station. Since Japanese people are good at taking care of nature, it is very common to explore various types of gardens and parks along you take a walk. Which gives you opportunity to enjoy your free time outdoor while making picnics with your friends, morning jogging  or just taking a walk in a fresh air. So, I also usually go for walking to parks near my apartment with my family.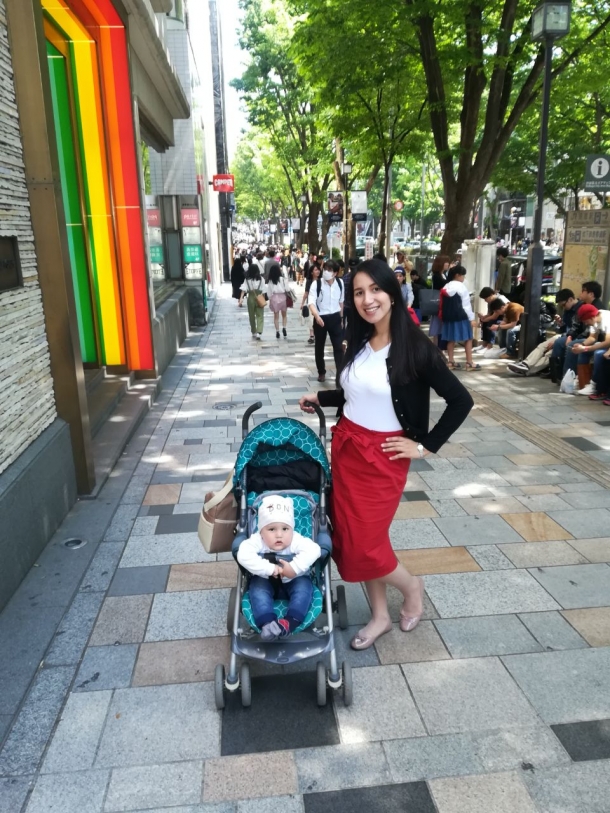 How do you spend your free time?
To be honest depending on my homework and assignments, my free time varies. Sometimes I am extremely busy and sometimes not. However, I try to make use of my free time either by spending it with my beloved family or with my talented classmates. Whenever I am at home, I prefer making homemade traditional and Japanese food rather than going out.
Despite the fact, almost 6 years dwelling in Japan, yet there are still a huge number of places on my "Must visit" list.  It is always amazing to explore new sightseeings of Japan and visiting there together with my family and friends.
Beyond that, thanks to "Buddy Program" in which Japanese students and LL.M. students get along with each others, I got acquainted with one kind and smart Japanese girl who also studies at Graduate School of Law. She is interested in Russian language and I am interested in Japanese. As we have same available time we always visit some new places around campus and support each others with language improvement.
Please, write a short message for future LL.M. students!
Dear prospective students of LL.M., if you want to build a strong network, to gain an indispensable knowledge, to enjoy every single lecture, then LL.M. is the exactly where you should apply for!
I am pretty sure, this 1 year LL.M. program will turn your life into the next brighter level which can be a strong milestone to build your successful career.
Waseda LL.M. is where every single student can shape their world and share their knowledge.
Moreover, if you are seeking to do a job hunting in Japan, learning Japanese in advance is highly recommended, since it will give you confidence to deal with any upcoming issues by yourself and make your everyday life easier.
2018 ABDURAKHMONOVA Rukhsora
---
Thank you, Rukhsora, for the comment!
For future students, please refer to the admission page if you are interested.
Graduate School of Law, Waseda University