Prof. Hiromi Fuyuki, Faculty of Letters, Arts and Sciences
Field of expertise: Shakespeare (visual and imagery representation in Shakespearean Drama)
Prof. Tetsuhito Motoyama, Faculty of Law
Field of expertise: Shakespeare (reception of Shakespeare)
Prof. Norimasa Morita, Faculty of International Research and Education
Field of expertise: Film and Literary Studies (adaptation of Shakespeare plays)
Part 3: The future of Shakespeare research at Waseda University
A group of scholars at Waseda University, working under the March 2016 collaboration agreement between the University of Birmingham and Waseda University, has been engaged in joint research with the University of Birmingham Graduate School's Shakespeare Institute under the aegis of the International Research Project Creation Support Programme. The Waseda team consists of Prof. Norimasa Morita (Faculty of International Research and Education), Prof. Hiromi Fuyuki (Faculty of Letters, Arts and Sciences), and Prof. Tetsuhito Motoyama (Faculty of Law). Topics in Part 3 below include near-future plans and prospects for Shakespeare research. (Date of the discussion: August 26, 2020)
Future collaboration with the University of Birmingham's Shakespeare Institute
Morita A series of symposia have been held alternately at Waseda and Birmingham, with the most recent one held in Birmingham. We plan to hold next year's symposium at Waseda, sometime between summer and autumn. The overarching theme, "adaptation", has been set as a common axis since the beginning of our collaboration, and within that, a specific theme has been set for every academic conference or symposium. The first themes were "Movie", "Performance" and "Novel". The theme for next year will be "Translation".
Motoyama Dr. Jessica Chiba, a Leverhulme Early Career Research Fellow at the Shakespeare Institute, will play a main role in future collaborative activities between the Institute and Waseda. Dr. Chiba is a former lecturer of a University of London college, the Royal Holloway, which has a superlative reputation in the performing arts field. Dr. Chiba's research focuses on clarifying the cultural norms and philosophical problems inherent in Shakespeare's works, through the lens of the theory of translation, especially translation into Japanese; we plan to organize next year's conference around issues that Dr. Chiba has been working on. We will pursue questions such as, what new perspectives are introduced into textual studies by the reading of translations? What new kinds of performances can be created through heightened awareness of translation theory, and what kind of connections can be drawn between emblems and translation theory? We hope to invite young scholars both from Waseda and from overseas to take part in the conference.
Fuyuki The two universities are from countries which take pride in their history of theater, so I would like to call attention to that as well. In 2021, the World Shakespeare Congress, taking place once every five years, will be held in Singapore (Shakespeare Circuits, the 11th World Shakespeare Congress, http://wsc2021.org). I will participate in a panel organized by Professor Dobson, entitled, Stratford in Asia, Asia in Stratford. In a Shakespeare production by a Japanese director, it is natural for the audience to receive different impressions depending on whether it is Japanese actors performing in Japanese or English-speaking actors performing in English; given that disparity in audience understanding, such performances occasionally face severe reviews. In that panel, I would like to discuss differences in cultural perceptions, the effects of translation, and the problems that non-English speaking actors face when they perform in English.
Morita As the name suggests, the World Shakespeare Congress is a well-known conference bringing researchers together from all over the world. The congress is so prestigious that it has become difficult to be accepted to give a presentation. It is impressive that Professor Fuyuki will take part in Professor Dobson's panel, to present the results of the joint research between Waseda University and the University of Birmingham.
Also, looking beyond 2022, I would like to expand the theme of our joint research to include multimedia as well as manga and animation, and I would like to continue to promote joint research by bringing together academic discussions and performances. Though some may disagree, theater is a "vulgar" art form. Even in the case of traditional performing arts such as kabuki or kyogen, textual studies and studies about the historical background of the plays tend to be considered respectable research, while modern performance research is not seen as scholarly; needless to say, this applies also in the case of work done on small theater performances.
Prospects for Shakespeare research at Waseda University
Fuyuki  I also recognize that both academic research and practice are important. Since 2016, the 400th anniversary event of Shakespeare's death, we have been staging reading performances every year and recruiting students to take part in these performances. Waseda University has a theater, the Waseda Drama-Kan Theatre, which used to be the base for leading Japanese director Tadashi Suzuki; this is a most suitable place for students to experience performing Shakespeare. As Shakespeare plays are absolutely theatrical, I think their value can only be sensed clearly when the plays are performed. When I was a first year undergraduate student, I saw a performance of Henry VI for the first time, in a small theater, and I was deeply impressed. That was the reason I started to specialize in Shakespeare. The stage had no sets, the actors were wearing jeans, the props were made of paper or aluminum foil—but the power of the drama seen close up was impressive, and the historical drama which was difficult to comprehend in written form emerged sounding like things that happen in modern times—many of the words spoken on stage moved me. Since then, I have seen many stage performances, and studied many works. I have the feeling that Shakespeare's words, which encapsulate everything in the world, only come to life when they are taken from the page and performed on stage. Also, I totally agree with Professor Morita's use of the word, "vulgar"; certainly many parts of Shakespeare's works are a far cry from being educational or elegant. Therefore, I think that in the study of Shakespeare, where the stage and the text are inextricably linked, there's a need for a perspective quite different from that which frames the study of text-centered novels and poetry.
Motoyama Unlike Professor Fuyuki, I was forced to write about Shakespeare for my undergraduate graduation thesis; that is how I set out on this path. After that, as I watched stage performances, I became attracted to the variety of interpretations, so like Professor Fuyuki, I am aware that the true value of Shakespeare appears when it's performed. I teach a Shakespeare class in the Faculty of Law. I take students to the theater every semester to give them an opportunity to experience Shakespeare in the theater, to let them feel the difference between the written work that they read in the classroom and the stage performance that shows the play's true character. When thinking about the reception of Shakespeare and the different ways in which Shakespeare is understood by readers, education is something that cannot be ignored.
Morita There are many active student theater companies in Japan, but not as many faculty members and researchers are involved here as they are overseas. There may be many things that even researchers cannot feel without practical experience. Some may object, saying that performance is not academic, but I would like to encourage, as a feature of Shakespeare studies at Waseda, the continuation of research that covers a broad scope of interests by combining the academic with actual performances and practice.
☞Click here for Part 1
☞Click here for Part 2

Related Links
Profiles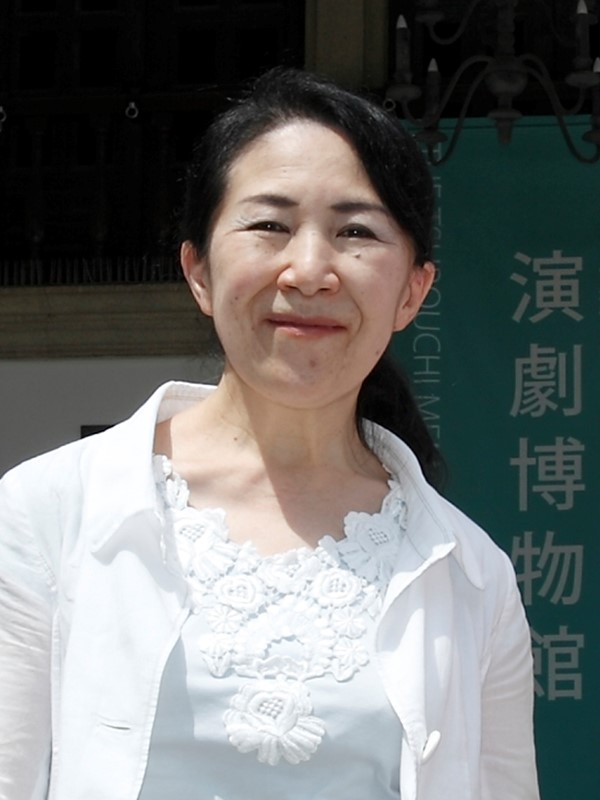 Prof. Hiromi Fuyuki
Professor in Waseda's School of Humanities and Social Sciences since 2011. Graduated from Waseda University Graduate School of Letters, Arts and Sciences in 1990, held the posts of full-time lecturer at Takushoku University, and full-time lecturer and associate professor at Waseda University. Currently, in addition to her vigorous research activities, Prof. Fuyuki is serving as Associate Dean of Waseda's Research Promotion Division.
Prof. Fuyuki's publications include "English Literature as a Canon: On Translation of Shakespeare" (joint authorship, in How Modern Humanities in Japan was Shaped), Bensei Publishing, 2019; The Text Made Visible: Shakespeare on the Page, Stage and Screen (co-edited with Prof. Motoyama), Sairyusha, 2011; and Language and Culture in Shakespeare (editor), Waseda University Press, 2007.
Prof. Fuyuki is a member of the Shakespeare Society of Japan.
Prof. Tetsuhito Motoyama
Professor in Waseda's School of Law since 2016. Master of Arts in Shakespeare Studies from the Shakespeare Institute, University of Birmingham; Ph.D. from International Christian University Graduate School of Comparative Culture. Has held posts as assistant professor and associate professor at Waseda University's School of Law.
Prof. Motoyama's publications include "The Shakespeare Company Japan and Regional Self-Fashioning" (co-authored with Fumiaki Konno) in Bard Bites, Edgar Elgar Press, to be published in 2021; and The Text Made Visible: Shakespeare on the Page, Stage and Screen (co-edited with Prof. Fuyuki), Sairyusha, 2011.
Prof. Norimasa Morita
Professor in Waseda's School of International Liberal Studies since 2004. Received an MA in English Literature (coursework in English) from Waseda University; and both MA and Ph.D. in English Literature (coursework) from the University of Kent. Prof. Morita has held posts as professor in Waseda University's School of Law; and prominent positions including Senior Dean of Waseda's Faculty of International Research and Education, and Waseda University Vice President for International Affairs. His publications include Japan Beyond Borders, Seibunsha, 2020; and Marginalia: Hiding Literature/Hidden Literature (co-editor), Otowa Shobo Tsurumi Shoten, 1999; and translations of works including Modernity and the Holocaust by Zygmunt Bauman (Chikuma Shobo, 2020); Liquid Modernity by Zygmunt Bauman (Otsuki Shoten, 2001); and The Illusions of Postmodernism by Terry Eagleton (Otsuki Shoten, 1998)
Venue
This talk was held at Building #8 and The Tsubouchi Memorial Theatre Museum on Waseda Campus.