From October 18, 2019 to December 22, 2019, Mr. Wu Ding Yi, a doctoral student of sport sciences at Waseda University, visited KU Leuven University in Belgium as a visiting student through the Top Global University Program. Below is a report from Mr. Wu.
Returning Report of KU Leuven
Staying period: October 18 to December 22, 2019

First of all, I would like to thank the supports from Top Global University Project, I had a chance to experience life of the Katholieke Universiteit Leuven (KU Leuven) in Belgium for two months. As a learning feedback, I will share my experience in KU Leuven through this report by following three sections: (1) Location, environment and daily life of KU Leuven, (2) my works in KU Leuven, (3) extracurricular activities, and (4) acknowledgements.
Location, environment and daily life of KU Leuven
The location of KU Leuven is very convenient in two respects. First, it is very close the Brussels airport. There is a direct railway from airport to the city of Leuven. Through the train, I could easily access to the campus of KU Leuven in about 40 minutes. Second, it is also close to Belgium capital, Brussels about 15 minutes by train. Depending on this, I could go to the central station of Brussels and travel to other countries such as French in Europe easily by the bus.
The environment of KU Leuven is also friendly for the students living there. Actually, KU Leuven is part of the city, there are not only many school facilities in the town such as library, university hall, the other small campuses, but also many shops such as local food supermarket, and Asian supermarket gathering in the central area. In addition, the street were full of students who were busy to school or to the town by bike. As a result, the whole atmosphere is quite safe and friendly in compared with some the other European cities where I have been.
Regarding living, we were assigned to live in a quite suitable guest house. Its location is about 8 minutes by bike from the campus of KU Leuven. In the house, we could have breakfast including toast with many kinds of jams and hot coffee with mike every morning. My personal favorite for a day was three piece of toasts with chocolate jam of Nutella brand! Furthermore, the house also has some public areas such as kitchen, chatting area, in which I could interact with the other visiting scholars or the other doctoral students from the other countries. For me, this guest house as a whole was very cozy and suitable.
My works in KU Leuven
In KU Leuven, I was assigned to the research group of the Policy in Sports & Physical Activity Research in the Faculty of Movement and Rehabilitation Sciences under the prof. Jeroen Scheerder's supervision. And I was recommend to join his one of research projects regarding comparison research about the impact of running event on attendees' physical activity in Japan and Belgium. The reasons for why I did not bring my Japanese project to there was because that the professor had a strong interested in conducting the topic of physical activity instead of my focus on elite sport. For me, it was also a great chance to broaden my research experience. Moreover, I had a close working relationship with one of excellent scientific researchers, Kobe Helsen. Regarding my working pattern, I usually had a regular meeting on Monday morning, in which I have to report my progress and discuss the issues emerged from the conducting research during the week with Kobe. In addition, I also had uncountable small meetings during the working days with Kobe. Then, he will report our discussion and progress of research to the professor. During the period, I conducted the following points of the preparations for the data collection after go back to Japan.
Gathered 3032 running events of 2019 in Japan through two databases.
Collected 1458 running events of 2019 in Japan in detail from (467 running events of Jan. to Apr. in Japan in detail).

The categories of detail including name of events, date, counties, event secretariat, organizational features (NPO/PO), event venue, postcode, capacity, distances of subjects, extra activities, organization contact person/organization, and contact email/phone/website forum.

Translating questionnaire and e-mails for research invitation.
Proofreading of translation by one non-native speaker with Japanese proficiency and two native speakers.
Currently, I am still working on this research project for sending the internet questionnaires to the Japanese running events organizers through email, and reporting the progress to the promoter and the scientific research by e-mail or skype. The following are the current and future arrangements for the research.
Setting up the URL links for questionnaire distribution. (completed).
Confirmation whether the events will be hold in 2020 before sending research Invitation.
The first sending the research Invitation email to the organizers of Japanese running events holding in Jan. 2020. (Completed)
The second sending (Estimate finishing date: 10th-15th Jan. 2020).
The third sending (Estimate finishing date: 10th – 15th Feb. 2020).
The fourth sending (Estimate finishing date: 10th-15th March 2020).
We also discussed the extension about including China or Taiwan into comparison in the future.
As a whole, although I did not attend their classes and mostly worked in the research room, I still enjoyed and learned a lot through conducting this research with professor and Kobe, because the research topic and methods was different from my own Japanese project.
Extracurricular activities
Except for studying in school, I also had chances to do or join following extracurricular activities.
Dinner with the student delegation of TGU forum from Belgium.
Year end drinking party hold by the faculty.
A trip in Paris in French and Swiss.
Christmas markets in Lindau in Germany.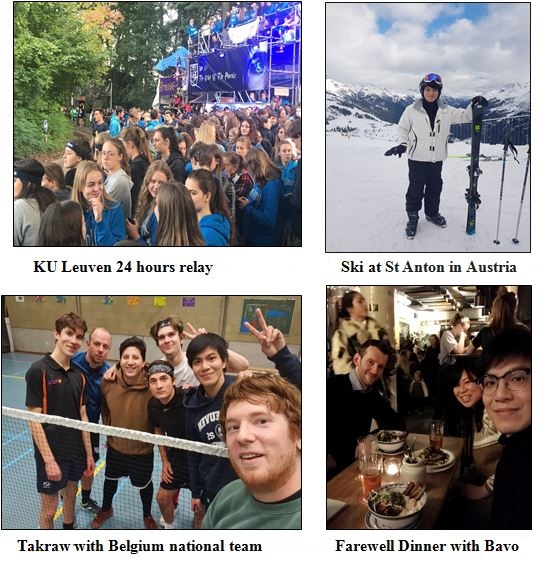 Acknowledgements
At the end of report, I would like to present my special thank you to an international relations officer, Bavo Meert, who helped and supported us during this journey. No matter when he always kindly provided us many assistances in order to let us focus on studying and enjoying the stay. Many things in KU Leuven became perfect, because of him! Thank you very much!
Last but not the least, I also would like to thank you the people who I met and gave me supports during the journey. I will always miss you and I sincerely wish you all the best and see you in some day in the future!