Four students went to study abroad from October 2019 to December 2019 at Katholic University Leuven (KUL or KE Leuven) in Belgium through funding by the Top Global University Project. The Health Promotion Model Unit had an interviewed with them to talk about their stay at KUL and asked them about the differences between KUL and Waseda University. The students showed up with a matching campus hoodies that was gifted from KUL. Let's hear what they say!
Question 1: How was life in Belgium?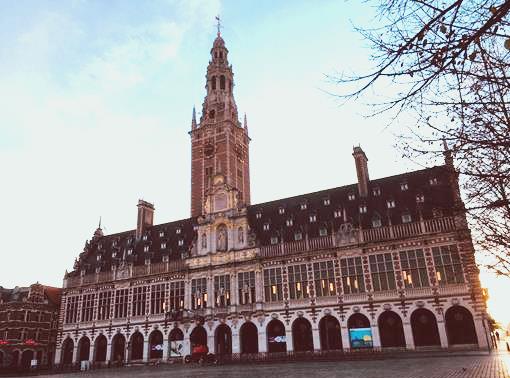 Otsuka: Belgium, especially Leuven, is very safe and a nice city to live. Most of the people in Belgium can speak English, so we can communicate with each other in the city hall, supermarkets, and restaurants. In Europe, it is better to buy or rent bicycles because the cycling road is very developed. We could visit many other countries in Europe due to a convenient transportation network.
Fujihira: Because it is located on the European continent, it is easy to move to other countries, and there are a lot of options for food culture and living culture. There were many international students at KUL so we could respect each other cultures.
Kato: Leuven is a super safe town. We do not worry about crimes so that we can enjoy what we want and concentrate on our studies. We can easily access a lot of attractive cities nationally and internationally.
Wu: Taking one week for example. I basically have a regular meeting about reporting my research progress on Monday morning. Then, I will have another regular meeting with Japanese supervisor on Tuesday morning. Except for these meetings, I use the time to conduct the both project from KUL and my own doctoral project. In the weekend, I arranged to go travel in the other countries.
Question 2: What is the difference between KUL and Waseda University or Belgium and Japan?
Kato: The English language proficiency of Belgium people are much more excellent than that of Japanese. Besides, the number of languages they can speak is much more than that of us. For these reasons, opportunities to absorb new idea or perspectives from various points of views are fruitful for Belgium people. Besides, I feel that they can accept new ideas or different points of view without any hesitations for improving their research qualities. These may be the reason why they can flexibly and actively interact and collaborate with people from a variety of academic fields. Their flexibility and multidisciplinary environments are not the things I could feel at Waseda University.
Wu: From my point of view, there are two differences between KUL and Waseda University. First is the access of campus. In Japan, I have to take a bus and walk about at least 25 minutes to get to the research room. But in KUL, I think it is easier for me to go to school depending on where I live. This time, I live in a place where I can ride bike within 5-8 minutes to school. Second is about the relationship between research members. Over there, it is more like a friendly company for me. They usually describe the people who are working together as colleague, even your supervisor can be your colleague. In Japan, although it can be the colleague, there is a distance in between people based on seniority or the degree they have.
Otsuka: KUL has many facilities and buildings for sports in the campus, and it is very similar to Waseda University. We could see that many normal students and citizens use these facilities in KUL. In our university, most of these facilities are only open to the students who are belonging to sports club team.
Fujihira: There are many examinations before obtaining a Ph.D. In Belgium, students take classes until the Master's degree program, learn research techniques, and concentrate on research from the doctoral program.
Question 3: How the difference in mindset about education and research?
Otauka: In my class, the students learn not only the fundamental things but also the trend of the recent research. They always consider and discuss about how to develop the research in the class. In the university, all Master's degree students and even teachers respect Ph.D. students and it is different to those of in Japan. Ph.D. students in KUL are well trained and paid a salary with the research funds of their supervisor. They are strongly aware that they are working at university and very surprised by the fact that we Japanese Ph.D students pay a lot of money to attend graduate school in Japanese university.
Fujihira: Many Ph.D. students go to the company as a researcher in Belgium. There are many options other than academia after obtaining a Ph.D.
Wu: Research working is just part of life. My colleague talked to me that they finished work normally at 5:00 pm. If time is up, he would not force to himself to continue it, because it will become inefficient. In addition, the weekend, he is out of his working email box, he will conduct some writing and reading, or sports. He also mentioned that if he also works in the weekend, his head will be explosion.
Question 4: Do you have an advice for Japanese University?
Wu: In my opinion, Japan's university can change the setting of meeting room for healthy sake. In KUL, especially the sport related meeting room or working place, they changed most of the meeting rooms or office for allowing people standing while working instead of sitting the whole day. Currently, I know only a few labs do this at Waseda.
Fujihira: I think there is a scholarship program and subsidies for studying abroad, so it is necessary to raise awareness of all students in order to increase student participation.
Otsuka: We Japanese should provide hospitality to the study abroad students. I concern about the attitude of Japanese students who are associate with the foreign students. It is necessary not only to study the grammar skill of English but also learn how to accept and welcome these students. In addition, it is much helpful for the study abroad students that the university supports their daily life including procedures at the city hall and opening bank account.
Kato: Waseda University provides us plenty of opportunities and asks us what we want. After this delegation, I have had an invaluable experience at KUL and gained confidence in myself. I cannot thank enough the people who help and support me financially, physically, and mentally. As for the Faculty of Sport Sciences in Waseda University, presumably the notification about the Top Global University project could be active.
Question 5: Problems about while studying abroad, if any?
Kato: I could not save my money at all because there are a lot of attractive things in and around the country. The instruction is normally written in Dutch or French, especially about food, or name of streets and stations. I was sometimes confused due to the lack of the instruction in English.