On September 21 and 22, with generous support from the Japan Society for the Promotion of Science (JSPS, bilateral programs), Egusa Foundation for International Cooperation in the Social Sciences and Waseda Top Global University Project's Center for the Positive/Empirical Analysis of Political Economy, 5 professors (Daina Chiba, Han Dorussen, Alejandro Quiroz Flores, Marius V Radean, and Gina Yannitell Reinhardt) from the University of Essex visited campus for the start-up session of the Waseda-Essex Scientific PoliSci/IR Collaboration and Exchange (WE-SPICE) initiative.
There were 17 papers on various topics presented in the two-day workshop and the topics of the papers varied widely from comparative politics, international relations and to political methodology. The research, such as empirical analysis of voting acquisition, quantitative text analysis of documents issued by political parties, experimental research on fighter plane scrambles, econometric analysis using new data over UN PKO, prediction on international conflicts, and text analysis of Russian propaganda, all used advanced empirical methods. The title of the papers can be found here.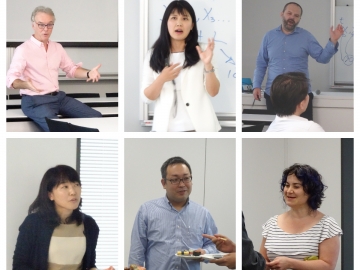 In March 2019, there will be another workshop as part of the WE-SPICE initiative. There are more than 10 Japanese scholars who will join the event, exchange ideas and seek chance for research collaboration. The Center for the Positive/Empirical Analysis of Political Economy hopes to continue this initiative as a long term commitment to promote UK-Japan joint research in the field of Political Science and International Relations.