On July 31, 2017, TGU Center for Positive/Empirical Analyses of Political Economy at Waseda University hosted a research seminar by Dr. Aneel Keswani, Reader in Finance at Cass Business School (City, University of London), titled "Lazy Investors, Lazy Fund Managers, Lousy Performance: National Culture and Mutual Fund Management." The seminar was co-sponsored by Waseda Institute for Advanced Study (WIAS) and Professor Hideaki Miyajima of the Faculty of Commerce chaired the seminar.
In the seminar, Dr. Keswani presented his joint research with Dr. Miguel of ISCTE Business School and Dr. Ramos of ESSEC Business School. Their analysis of international fund data showed that culture can explain differences in how sensitive fund flows are to past fund performance and fund fees.  Recently, many researchers analyzed the effect of national culture on the behavior of corporations or investors. This research by Dr. Keswani additionally contributes to the existing research by showing that the fund flows are also impacted by the national culture.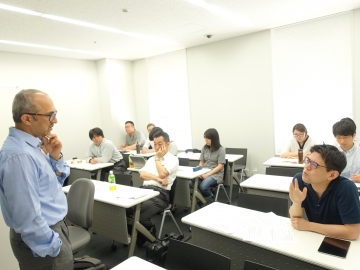 During the seminar, Waseda faculty members posed questions and comments, and the students listened to the lively exchanges between them.
In addition, Dr. Keswani taught a summer intensive course at MSc in Finance Program of Waseda Business School (Graduate School of Business and Finance) from August 4 to 9. The course titled "Asset Management" enrolled students from both MSc Program and MBA Program, where Dr. Keswani combined lectures and case discussions. A student who attended the course appreciated his course very much, saying that the experienced lecturer from the U.K. hosted lively and inspiring lectures and discussions.