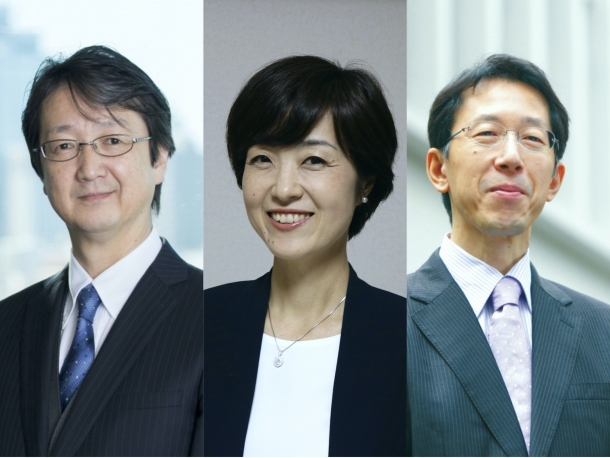 Due to the spread of the coronavirus, Waseda University had to conduct all classes online during the Spring 2020 semester. Although some classes are being carried out on campus in the fall semester, online learning and teaching continue to be the norm for most classes. So how did the faculty members feel about online teaching? We have interviewed Professor Akinori Morimoto from the Faculty of Science and Engineering,Assistant Professor Hiroko Arai from the Faculty of Letters, Arts and Sciences , and Professor Hiroki Tohya from the Faculty of Political Science and Economics to find out more.
Professor Akinori Morimoto, Faculty of Science and Engineering
ProfessorAkinori Morimoto earned his PhD in Engineering at Waseda University. Before becoming a faculty here, he had also lived in the U.S. where he was a researcher at MIT. He was a Teaching Award winner at Waseda in 2019.
Could you tell us how your felt when you knew that all classes would be conducted online? Additionally, what was the most challenging thing at the beginning?
If you think of how the coronavirus had spread and the panic it was causing, it was only nature to conduct all classes online. I would say that Waseda deserve praise for being one of the first universities to decide that all classes should go online. I had anticipated that the implementation process would not be easy and was prepared to face the challenges.
For the past decades, I had been teaching students on a face to face basis. I would observe the student reaction in class and tailor my teaching approach accordingly. By examining the faces of students in class, I will know if students are on the same page as me. So whenever I realized students were uninterested, I would change the topic or incorporate jokes in class. However, teaching online makes this difficult and classes tend to be monotonous. As such, I have to be constantly mindful about these and make an extra effort to make online classes feel like they are similar to face to face classes.
As you continue to teach classes online, what improvements and achievements have you made?
I have change the way I would utilize the 90 minutes in class. If I am going to speak throughout the 90 minutes, that would be too much for the students to take. Considering that students have to attend other online classes as well, they would not be able to concentrate and absorb well.
So what I did was, I would keep my lectures to 45-50 minute short and spend the remaining time on Q&As and discussions to engage the students. As students would prepare for this part of the class beforehand, I have seen that the quality of questions being asked have got better. This part of the session would usually not be recorded as it is easy to get carried away and diverted from the main topic.
What are some of the issues that need to be resolved?
One of the issues at hand now is how we measure the degree of learning of students. When conducting an online test, we have to set in place measures to prevent cheating.
So this was what I did. When designing a 50 minute test for the spring semester, I had students answer 50 questions whereby each question was solvable in a minute if the students understood the class. If they did not and had to refer to notes and materials, it would take them 2-3 minutes to figure out the answer to each question. Additionally, I prepared 100 questions for the test and each student would receive 50 of them at random.
As you can see, it takes a lot more preparation and energy for faculty to prepare classes and tests during this pandemic. From survey results, I also understand that it is mentally demanding for new students during this period of time so I set aside time for consultation. After classes went online, I have heard that student workload became heavier. To lighten student workload, I gave them less work to do but had them spend 10 minutes at the end of each class to write their self-reflection.
Do you have any message for the students?
As I specialized in urban planning, I have been receiving a lot of questions about how towns and cities should be designed to be in order to cope with the coronavirus pandemic. Japanese cities have grown stronger each time a natural disaster, such as the Great Kanto Earthquake and the Great East Japan Earthquake, hit. ICT has also been incorporated in urban planning to develop smart cities. I hope students would take the opportunity to think about what they can do. I also hope they would gain the necessary thinking, flexibility and adaptability skills essential to the new era.
Assistant Professor Hiroko Arai, Faculty of Letters, Arts and Sciences
Professor Hiroko Arai holds a PhD in Education and is currently involve in the career development research for career design education. She was also a recipient of the Teaching Award in 2018
What were the challenges you faced when it was decided that all classes would go online for the spring semester?
First of all, I was not even sure what we could do online and so I started by learning the basics of online learning. It was also point when Waseda Moodle, a new online learning management system, had gone into full implementation. As such, the timing made things even more challenging. Before the start of the spring semester, there were even days when I worked in front of a computer from day to night without solving any problems at hand. The whole experience was so strenuous that I do not even want to try recalling.
Besides using Moodle, I also had to learn and make use of YouTube, Google Forms, Spread Sheet and paste the necessary URLs on Moodle. In a sense, I used Moodle like a dashboard. I have also used Google Forms to make teaching materials, conducted classes on Zoom and kept in touch with students using Line. I had to use different tools depending on the purpose.
What are some of the benefits of conducting classes online?
I would say it made sharing and collaboration easier, especially in my zemi-classes. Using the Breakout Room function in Zoom has made online group work possible. The downside is, I will not be able to know what is happening outside the group I am in. Throughout the semester, I had asked students to provide me with feedback and I had received many suggestions on how to go about making things easier for everyone. For example, we ended up sharing minutes and work progress on Spread Sheet after discussion with students. At the beginning, I had to figure out many things by myself but now, I am working closely with students to make the best of online learning experience.
At the end of each lecture, I would usually ask students to fill out and submit a reflection sheet with their questions and reflection on the class to me. Using Google Forms, the submission of reflection sheet has been made easier. When students submit their reflection sheet on Google Forms, they have a choice to send a copy to themselves. This helps them keep a record of their learning progress. In the future, even as face-to-face classes resume, I will continue to utilize online tools such as Google Forms to facilitate learning and teaching.
Do you have any message for the students?
Despite the benefits, there are definitely certain aspects of online classes that do know work out well. For example, in a class I teach called the Methodology of Social Education which earned me the Teaching Award in 2018, students take part in a workshop in each class whereby we engage in discussion thereafter. When I taught the same class online in spring this year, despite various efforts, the class did not evoke the kind of surprise, fun and other emotions like how it did when it was conducted face to face.
When conducting online classes, there is a tendency to say politically correct answers, making it difficult to incorporate jokes and honest opinions. If possible, I would like to do a face to face class for my classes even if it were only for once a month.
Online classes require even more inter-subjectivity between Faculty and students. Faculty and students have to work closer than ever like my zemi-classes. I think such Waseda-likeness does not change even with coronavirus.
Professor Hiroki Tohya, Faculty of Political Science and Economics
Professor Hiroki Tohya completed his undergraduate degree at Waseda University. After which, he went to the U.S. to do his master's degree at MIT and then finally earned a PhD at Keio University. He worked at various organizations and Hiroshima University before resuming his current position.
When the University decided to implement online classes, how did you prepare for them?
A unique feature of my online classes is that I use audio from a text to speech reader software and animation to create video content without myself appearing in them at all.
When I first started preparing for online classes, I thought of creating on-demand videos where I would show up at the beginning and at the end, and the main part would be voiced-over PowerPoint slides. However, after viewing the 45-minute pilot version of the video that was created as a test, I was disappointed with its low quality.
So, I decided to take an approach with an idea in mind that on-demand videos and in-person classes are completely different kinds of content, almost analogous to the difference between a live concert and a studio album production in the music industry. As a result, this teaching style was borne. Also, for faculty, an online class could be just that one class they are teaching, but students take many of them, which is why it is necessary to reduce the stress level and put in more effort than an in-person class to keep students motivated. Because of these reasons, my basics policies for creating videos became "keep it short," "keep it busy," "be playful," and "don't let viewers feel that they are alone."
Please explain about the basic policies in detail.
For "keeping it short," I summarize each smaller topic into a 15 to 25-minute video. On top of that, I assign mini tests and tasks to complete per video to help students establish their understanding. I've received positive feedback from students with comments like, "It's just the right amount of time to stay focus," and, "I feel motivated to study because there is a mini test that comes as a set with the video, and reviewing the content is easier because the video is short enough."
For "keeping it busy," I literally used graphs and images that would keep students occupied as much as possible. When explaining something in words, it takes time. However, even if the content is difficult, using busy-looking graphs and images can make the presentation more comprehensible. In fact, most content that took 90 minutes to explain in an in-person class was compressed into two 15-minute videos. On this as well, I received comments like, "Even though the content was at the advanced level, the video was easy to understand, and I was able to understand it well," from students every time.
Often times, I hear that the down side of having online classes is that there are no digressed conversations or small talk after class. As I thought of students who are taking online classes all day in loneliness and anxiety, I came up with the idea of creating a class that would be something like a midnight radio show that students would secretly look forward to and listen every week in their rooms to "be playful" and "not let viewers feel that they are alone." "Midnight Q&A" is the prototype of this concept. In this video, I had students write questions in the free space column of a survey and answered them as if I were a radio personality. As I answered the questions while having digressed conversations and sharing my sense of humor, I streamed a video of myself playing self-composed music and reciting self-written poems.
In a survey, students responded with comments like, "It cheered me up!," and, "I can't wait for the next sequence." The comment that left the most impression on me was, "I felt that I wasn't the only person taking this class." As the show went on, the content of the questions leveled up, influencing other students who saw the video to ask questions and creating a virtuous cycle.
What are some issues to resolve in the future?
Currently, the feedback I've received from students in the survey has been very positive, but the reason for this could be that my style was considered unique because we are now in the dawn of online classes. Still, I believe that I was able to present an example of online classes that are not merely just substitutes of in-person classes.
Right now, I am interested in the secondary use of on-demand videos. If we could take advantage of how short the videos are, it would be possible to plan courses in ways such as, "If you watch the videos in this order, this is what you will learn," or, "Watch the videos in this order to know more about this topic." Not everyone needs to watch the same videos in the same order.
Until I started preparing classes for this past spring semester, I had no experience creating videos, and I still struggle a lot. However, despite how busy I am with my professional duties, I still make time, even if it is just a little, to continue researching on the Meiji Restoration. This is a topic that I have been studying since I was a student. Even if it's just 10 or 20 minutes a day, doing things that I enjoy makes me feel better and refreshes my mind and mood, influencing the video content production in a positive way. Perhaps, many students may feel that things aren't going their way because of the coronavirus and that they are spending way more time than usual to take online classes and to complete the piles of assignments. Even in such situation, I hope students will spend their student life by making time to do things that they enjoy.