I felt the warmth that everyone in Japan, I had the time of my life.
Graduated the master's program of Letters, Arts and Sciences in March, 2021
KHITROVA, Yulia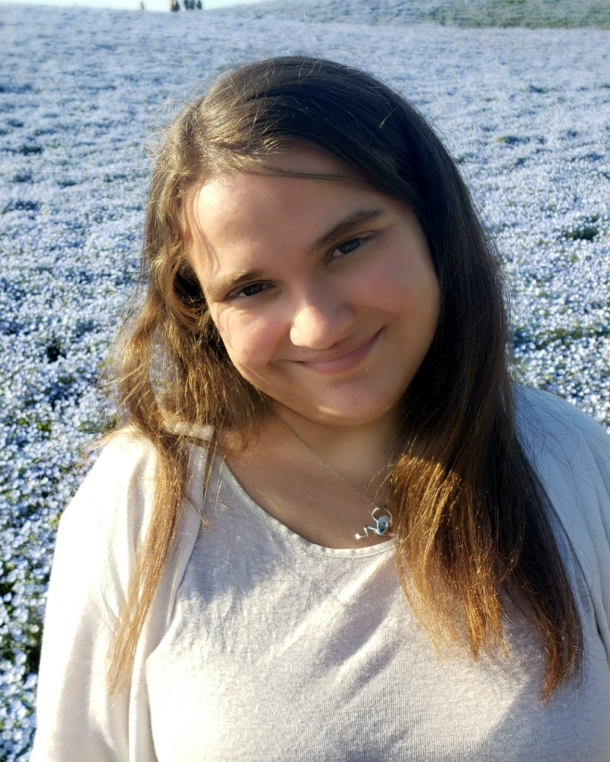 I have been interested in Japan since childhood, and eventually, that lead to my Moscow University major being Japanese studies. However, during school, I did not have the opportunity to go to study in Japan. I managed to get a MEXT scholarship, which cost a lot of effort studying in Japan for a year and a half was totally worth it. This country is very kind and very comfortable to live in. I had the time of my life.
The topic of my Master's research was "The Discourse on Naval Defense in Mid-19th Century Japan". This topic examines the defense policy at the end of the Edo era which the Tokugawa Shogunate has constructed through centuries. Although this topic seems very niche, it is related to important events such as the fall of the Tokugawa shogunate and the origins of the Meiji Restoration. In Waseda, my research has certainly benefited the most from the university's rich library. In fact, it was because of it that I chose Waseda. There I found many materials that added to a lot to my research.
I also took advantage of events and services at Waseda. As for university life, I participated in many ICC (Intercultural Communication Center) events. They were very different, but always interesting. I loved the Cooking Party, and the trip to Nagano for the No-Border ski camp was absolutely unforgettable. It was also a special pleasure for me to hold a Russian evening in Waseda because it helped to make other students interested in my home country! I was very happy to have the opportunity to do so. And the Career Center gave me some tips to find a job in Japan. I found that the Japanese job-hunting process is full of specifics. Furthermore, I have benefited a lot from the free counseling at the Health Support Center.


Left: In February 2020, I went to Sugadaira Kogen (Nagano Prefecture) for the 'No-Border Ski and Snowboard Camp' (the author is the second person from the left in the front row).
Right: At the "Russian Culture Night" held in December 2019 (the author is the second person from the left).
Both Russia and Japan lie between the Asian world and the Euro-American world and combine something of the two polar cultures. Also I think Russians are very hospitable people. Then that's what we have in common with Japan. Nevertheless, we are also radically different. While I lived in Japan, I got the impression that the Japanese gravitate toward "order" strictly following the rules and working for the good of society. Russians, on the other hand, put their own common sense above rules and act according to their own justice. Sometimes this allows creating new ideas and thinking outside the box. But sometimes it throws everything into chaos. I think we could learn a lot from each other.
However, I think that no matter what country we go to, the main thing is to keep in mind is that no matter what country we were born in, we are still people. Instead of communicating with a "Russian," a "Japanese," an "American," or anyone else – we have to communicate with a "person". Respect ourselves and forgive others. And then we will be able to find own place and make friends in any country.
Studying abroad in Japan became a window to a new world for me – a world of kindness, peace, and prosperity. A world where everyone respects each other, and where you can get to know many different cultures just by holding out your hand – many foreign students come to Waseda University, and they are all set to communicate and understand each other. Through my stay in Japan, I've learned to be kinder to myself. When people around you are willing to help, you want to help others, too. When you have enough of everything, you want to share it with the whole world. Such is the essence of happiness I've found here.
~What surprised me the most in Japan~
Japan may seem like an expensive country, but it has many things that make life easier. For example, at the supermarket, it is especially good to go there an hour or two before closing time as there will be many discounts. 100-yen stores are also helpful. And when I traveled, I found inexpensive hotels on booking sites and often took the night bus.
In Japan, health insurance is absolutely wonderful. I often hear my American friends complain about the too expensive cost of medicine. And in in case of Russia, the truth is that even though medicine is free, but I need to pay a lot of money to get a good treatment. But health insurance in Japan is very reasonable. 70% is covered by the public medical insurance, and only 30% by the individual. In Japan, I finally managed to get my teeth treated.
What surprised me most about Japan was the warmth that everyone in Japan had shown me. When we read about Japan from abroad, we often get the impression that the Japanese are closed-minded and unfriendly. But that's not true. Everyone is responsive, helpful, and honest. Even if we drop your wallet, we will get it back for sure. I think Japan is the only country where this is even possible.


(From left) National Hitachi Seaside Park (Ibaraki Prefecture) and Lake Kawaguchi (Yamanashi Prefecture). I think the key to Japan is the "four seasons". Through many centuries the Japanese have praised the beauty of the passing seasons, and it still holds true even in modern times. Each season has its own beautiful views that are worth seeing.