*Note: This is a translated article. To view the original article interviewed and written in Japanese, click here. In case of discrepancy between the two, the Japanese version shall prevail.
Although disagreements based on geopolitical reasons exist, mountain climbers generally agreed that the Seven Summits are the highest mountains of each of the seven continents. In April 2017, 20 year old Marin Minamiya, student at the School of Political Science and Economics, became the youngest and the 52nd person in the world to conquer the Explorer's Grand Slam—the challenge to climb the Seven Summits and land on the North and South Pole.
Two years have passed since Marin made world news, and Waseda Weekly decided to interview her once again to revisit her achievements and find out why she decided to study at Waseda University.
Q. First of all, what got you interested in mountain climbing?
When I was 13 years old, I was attending secondary school in Hong Kong and it was during the time when I first climbed a mountain. After climbing the mountain in Hong Kong, I visited Annapurna in Nepal where I was able catch a view of Mt. Everest. When I saw the beautiful and magnificent Mt. Everest, there was a strong urge inside me that wanted to climb it. I think that was when everything began.
To further elaborate, because of my father's work, I was studying in various countries outside Japan, including China and Malaysia. My father and mother did not get along well with each other and they eventually divorced. Under such ever changing circumstances, there was period when I was not really sure who I was. It was a period when I was trying to find my identity. I thought if I could climb Mt. Everest, I would not only change for the better but become stronger physically and mentally as a person. Most importantly, I would be able to find out who I really am.
Mountains are beautiful and they each give me different inspirations. It was through mountain climbing and sharing of the experience that I was able to meet many wonderful people I would not be able to have I not started my journey.
Q. How did you go about planning your climbing expedition to Mt. Everest?
When I told my father that I wanted to climb Mt. Everest, he supported me but we agreed that I would fund for it by myself. To name a few, I would need to get an air ticket, necessary equipment for climbing and a visa and climbing permit from the Nepal government that could cost tens of thousands of US dollars. I was only 17 that time and was not really sure how to go about funding my expedition to climb Mt. Everest at first. But, after doing much research, I realized that if I could conquer Mt. Everest by age 20, I would be the youngest to do so in Japan, breaking national record. Using my age to my advantage, I started looking for sponsors who would fund my expedition.
Q. How did you convince your sponsors to fund your expedition?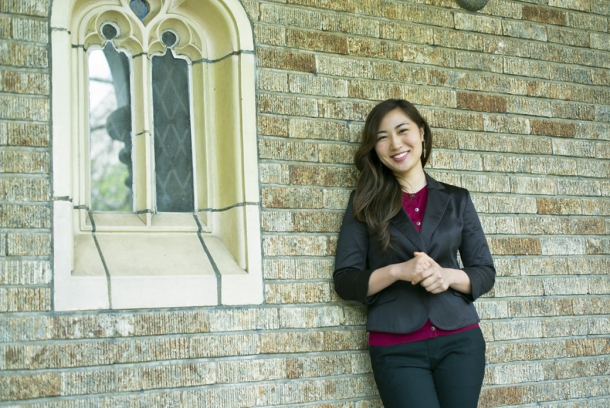 I was only a high school student back then. I was totally not well-known of within the mountain climbing community nor did I have any connections. Wearing a 30kg vest, I would train every day after school to prepare myself physically for the expedition. While I was doing so, I would send out countless number of emails to organizations and the media in hope of a reply. As you might have guessed, it did not go well at all. Nevertheless, I refuse to give up and continue to send out emails then finally, the Tokyo Shimbun and Yomiuri Shimbun (Japanese newspaper publishers) decided to meet me in person.
I still remember it was December 2014. The Japanese newspapers which interviewed me wrote big headlines such as "Female High School Student Aims to Be Japan's Youngest to Climb Mt. Everest in Two Years," featuring me on the front cover of their newspapers. In the article, they wrote about my goals and how I was training hard every day to achieve them. One elder lady who read my article decided to give me 1,000,000 Japanese yen (approx. 9,000 US dollars) to show me her support. I later found out that she herself loves mountain climbing but could not climb Mt. Everest because of her age. She basically entrusted her dream to me.
Since I made headlines, more and more people and organizations who were keen to sponsor me starting appearing one after another. At first, I was only aiming to climb Mt. Everest. However, when I received sponsorship from clothing company Uniqlo, whose founder and CEO is Tadashi Yanai and a graduate of Waseda's School of Political Science and Economics, I decided to dream bigger and set my sights on the Seven Summits and then eventually the Explorer's Grand Slam, which includes the North and South Pole.
Q. You are currently still a university student and the kind of independence you have is very unusual at your age in Japan. How did you learn to be so independent? Was your dad worried about you and your safety?
For some reasons, my father thought everything would turn out fine and well. Instead, I think he is more worried whether I could graduate from university.
On your first question, I guess firstly my father in general has a laissez-faire attitude to everything including my upbringing. In addition, when I was studying at a British secondary school in Hong Kong, there was a strong emphasis placed on student development and independence. During school events in general, students had to learn how to gather funding. I think all these helped me develop self-independence.
Q. You have accomplished so much at your age. What else do you want to achieve at Waseda University?
To be very honest, there was a period of time when I felt that attending university is not important because if it is knowledge that I am after, I can always read books and acquire them by myself. There are even people around me that say what one learns at a [Japanese] university is not applicable to the real world. But I soon realized that Waseda University creates an environment which encourages friendly rivalry. Studying at Waseda hence made me want to study harder and further improve myself. I think such environment is essential to self-development.
Q. How are you spending your time at Waseda?
I still have compulsory subjects left to read so I am attending school every day. Because I have lived in China before, I really like Professor Eiichi Motono's classes on modern history of China and Asia. I am also attending his classes on global economic history taught in English, originally designed for graduate students. Professor Motono is a very passionate scholar and I always feel so engaged in his classes.
I am currently in my fifth year of study so most of my friends have already graduated. Nevertheless, there are some who took a leave of absence to study abroad and others who decided to attend graduate school. Contrary to what most Japanese people expect or believe, I think we do not necessary have to complete our undergraduate studies in four years. If it takes you a year or two more than the others to do so but you are able to spend the time in a more purposeful way, why not?
I want to enjoy the rest of my student life and spend meaningful time with my friends and family until I graduate.
Q. You mentioned before that when you were still a high school student, there were people who were skeptical about your dreams and there was even one who said it is impossible for a young lady like you to climb Mt. Everest. However, you proved them all wrong. What advice do you have for our newly freshmen who may face similar situations and be put down by the others?
I think that you are both the person who expands all possibilities and the one who eliminates them all. What I am saying is that, you need to learn to be optimistic and believe that you are going to make it through in whatever you are doing. It is also important to surround yourself with positive people. On a ratio scale, you should keep nine positive people for every single negative person you have around you. When you have more people who are supportive of you by your side, you will be able to draw positive energy from them which makes you feel that you can accomplish anything you set for yourself.
I think it is also important to follow the compass of your heart. When you feel great, you should say it out loud. When you think someone looks beautiful, you should compliment the person. When I was on Denali in Alaska, on my final journey to complete Seven Summits, I was caught in an extremely bad weather. For nine straight days, the snowstorm was so big that my tent almost got blown away. I thought I would not be able to make it and I remember texting my dad that saying that I love him. Having experienced the brink of death, I began to live my everyday life with gratitude. Even simple things like breathing the air makes me feel great and joy now.