Gracia LIU-FARRER, Professor, Graduate School of Asia-Pacific Studies, Faculty of International Research & Education
Specialization: International labor migration
The Ability to Move Is a Symbol of Freedom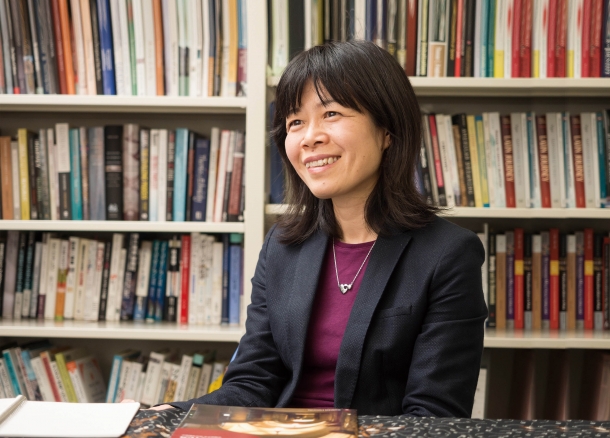 International migration research investigates and theorizes the movements of people across borders. Professor Gracia Liu-Farrer from the Graduate School of Asia-Pacific Studies focuses on migration patterns of people in Japan and elsewhere in Asia. She compares the mobility phenomena and integration issues in Asia with those in Europe and the United States. As a researcher based in Asia, she aims to contribute to the theoretical development of international migration by examining migration phenomena emergent in Asian contexts and utilize the results to provide recommendations for migration policies.
Understanding current conditions and seeking solutions to migrant problems
Movement of people across national borders occurs extensively in the modern world with advances in globalization. Many patterns of movement exist, including moves by low-wage labor and moves by high-skilled professionals (highly specialized jobs). People move for work and school as well as for lifestyles. Research related to movement of people is being carried out broadly throughout the world. My research has been on new comer Chinese immigrants living in Japan in the past and the lives of migrants who come to Japan from various countries in recent years.
Problems related to migrants and migration have been occurring in Japan. For example, is international education as it is supposed to be? There was the death of a Vietnamese language student because of excessive work in 2015. While the Japanese government has a plan for "300,000 foreign students", it comes with many challenges and a painful reality as well. Japan accepts many foreign trainees from developing countries, and some trainees are placed in harsh work environments. The Japanese government wants to attract advanced labor resources from other countries, but is not making much traction with these efforts. It is vital to have a detailed understanding of the different patterns of international migration in order to ascertain the types of measures that could serve as solutions to these various problems.
Given these concerns, I am developing international collaborative research projects to investigate patterns of international migration by workers with different skill levels. It is difficult to clearly define skills because they extend beyond just academic background and job expertise to language capabilities, flexibility in adapting to cultures and communication capabilities. Furthermore, skill levels are not fixed because they rise in the migration process. Our projects leverage qualitative and quantitative research to conceptualize patterns of labor movement and thereby achieve comprehensive understanding of issues. I hope to utilize the research results to find solutions to various migration issues confronting Japan and the world and make effective proposals on migration policies.
Fundamental human desire to move
My personal experience of moving multiple times had a strong influence as a starting point of research into international migration. In China, where I was born and grew up, the"hukou" family-register system prevented free movements internally and strictly regulated movements from rural areas to cities. This system forced my mother, sister, and myself to live separately from our father, who lived in Shanghai, for many years. I wondered about "why people could not move freely" from a very young age. I also was very curious about other regions. Many people with similar feelings are still living in Chinese rural areas.
Our family only began to live together in Shanghai from when I was 10 years old. I graduated from Fudan University and studied abroad at the University of Chicago in the United States. I obtained master's degree in education and then moved to Japan with my husband, also a researcher, who started an academic position in Japan. This led to my in initial research on Chinese people in Japan when I entered PhD program in sociology at the University of Chicago. I have pursued research on movements of people as my life work since then.
I moved from a small town in China to the big city, to the United States, and finally to Japan. I learned the language, culture, and societies in each of these locations. I would be a very different person if I did not have these experiences. These experiences led to my conclusion that the ability to move is a symbol of freedom and a fundamental desire of human beings. Migration can be the most effective way of escaping poverty, human rights violation, and other difficulties. Many people who migrate are seeking to fulfill such dreams. I personally view free movement as a basic human right that should be guaranteed for all people.
Seeking harmonization of "migrating people" and "society"
An advantage of Waseda University's Graduate School of Asia-Pacific Studies for conducting this research is the international environment with foreign students at 70% of the student body. The diverse language and cultural background has important significance for the research itself. Students substantially broaden research scope by addressing issues of international migration related to their own backgrounds. Another major benefit for this research, and key aspect of Waseda University as a whole, is an environment that supports interdisciplinary research. Some faculty members are involved in research on other areas related to international migration, such as language education and labor economics. I want to promote even more collaboration with other academic fields.
Japanese people have a tendency to treat "immigration" as a "phenomenon in a distant world." This is totally not the case. In fact, many foreigners are working in Japan, including at the Tsukiji market, at building demolition sites, and as newspaper delivery people. They are already an important presence in Japanese society. It is evident that Japan must accept foreign workers in order to maintain a certain level of economic growth as it increasingly confronts the shrinking native labor force. How can migrants and the receiving society achieve harmonization and co-existence? I am carrying out the research with the belief that methods exist to make this process work better than it does now. I hope to establish an Immigration Research Center at the university, using it to build a network linking migration researchers in Japan with those in other countries. We can join efforts in understanding the challenges of migration in an age of global mobility.
Profile
Gracia LIU-FARRER
Liu-Farrer obtained a BA in English from Fudan University (1993), MA and Ph.D. in Sociology from the University of Chicago (2007). She joined the Graduate School of Asia-Pacific Studies, Waseda University in 2009, and became Professor in 2014. Prior to her career at Waseda, she was an assistant professor at Ochanomizu University and visiting professor at the Institute for the Study of Global Issues, Hitotsubashi University. She received the Waseda Research Award in FY2014.
【URL】https://www.waseda.jp/gsaps/about/faculty/liu-farrer-gracia/
Major research papers
Liu-Farrer, Gracia. "Migration as Class-based Consumption: the Emigration of the Rich in Contemporary China", China Quarterly, Vol. 224, pp. 499-518, 2016.
Liu-Farrer, Gracia. "Chinese Newcomers in Japan: Migration Trends, Profiles and the Impact of the 2011 Earthquake", Asian and Pacific Migration Journal (APMJ),Vol. 22(2), pp. 231-257, 2013.