#3 Initial impressions upon entering academia
The intimidation and depth of research
ーAfter graduating from Kansai University's School of Humanities you decided to enroll in Waseda University's Graduate School of Sports Sciences. Why did you choose Waseda?
Machida: There was no sport management graduate course at Kansai University when I decided to pursue graduate studies. As I prepared for my post-retirement career, I learned that Waseda University's Graduate School of Sports Sciences was one of the top sports sciences programs in the country, which is one of the reasons I decided to enroll.
I specialize in sports which incorporate music, such as figure skating, rhythmic gymnastics, and artistic swimming. I've coined these sports "artistic sports." To become a specialist of these sports one must not only conduct general sports research but also become familiar with a wide range of artistic fields.
In addition to its strong presence in sports sciences, Waseda University, with its Tsubouchi Memorial Theatre Museum, has conducted troves of performing arts research, making it the perfect fit for my research.
ーSo your decision was partly because Waseda is strong in both sports and the arts.
Machida: Yes. While completing my master's I attended a class on dance theory taught by aesthetics scholar Akira Amagasaki (former visiting scholar at the Tsubouchi Memorial Theatre Museum) at the Graduate School of Letters, Arts, and Sciences. That class, taught by Amagasaki, a leader of performing arts research, was an invaluable experience for me and my research.
ーWhat is the topic of your research?
Machida: I want to focus on phenomena peculiar to artistic sports, and pursue interdisciplinary research. One topic is the problem of copyright. Figure skating deals with various creative properties, including music, clothing, and choreography. I want to explore the best ways to manage these copyrights.
I also want to investigate how one should manage figure skating choreography once it becomes a copyright. It's this kind of relationship between sports and intellectual property rights which I am researching from a legal perspective.
The problem of decreasing skating rinks I mentioned previously must be approached from the perspectives of sports economics and industry, and the drop in age of skaters and the problems concerning eating disorders must be addressed from a multitude of perspectives, such as those of sports medicine, nutritional science, and psychology.
ーIt has been three years since you begun your research. What are your impressions so far?
Machida: I'm truly happy I decided to pursue the path of a researcher. With that said, after completing my master's and starting my PhD program, the more I research the more keenly I feel the "intimidation" and "depth" which accompanies it.
ーThe "intimidation" and "depth"?
Machida: Undergraduate and master's students are primarily focused on acquiring knowledge but once they enter a PhD track and begin to present their research at academic conferences each statement they make can impact society. Half-baked claims or statements can't be considered research accomplishments. I am constantly reminded of the importance of humility in academia.
ーAnd the "depth"?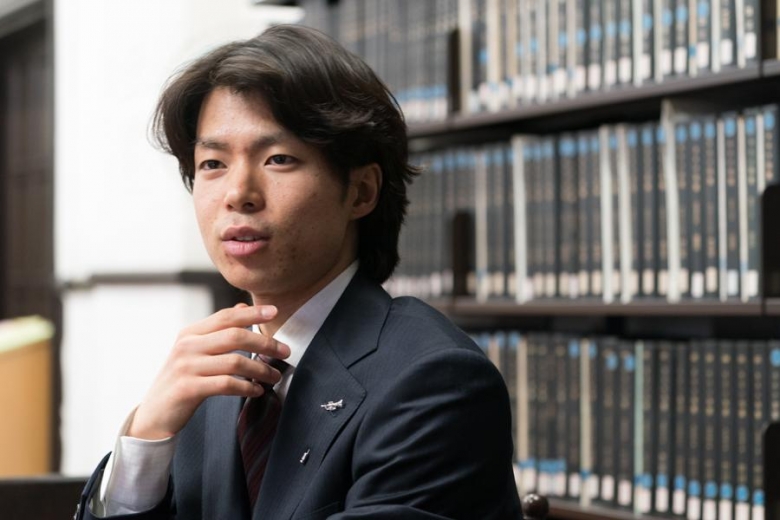 Machida: Research does not have an end goal. When one feels they've come closer to solving a problem they are immediately confronted with a new issue. The world of research has no final destination and the diversity and possibilities are never ending. Unlike athletes who are limited by the physical limitations of their bodies, researchers deepen their research the older they get. I find this particularly appealing.
ーHow many other researchers aim to become specialists of artistic sports?
Machida: There is already research on the mental and physical aspects of artistic sports, but there is barely any research concerning management. I hope to open up this field.
ーAs a researcher you intend to step into unexplored territory.
Machida: However, one must not forget that even unexplored fields exist within an academic structure and framework. It's because those who came before us laid the academic foundations that we can pursue our own research. I intend to go forward with this in mind.
Profile:
Tatsuki Machida
Tatsuki Machida is a second-year PhD student at Waseda University's Graduate School of Sports Sciences. He was born in Kanagawa Prefecture in 1990 and graduated from Kansai University's School of Humanities. In 2006 Machida placed first at the Japan Junior Figure Skating Championships. He won his first victory as a senior athlete at the 2012 Grand Prix Series and went on to win a total of four victories. At the February 2014 Sochi Olympics he placed 5th in the free group and individual competitions. Machida won a silver medal at the World Figure Skating Championships held in March of the same year, trailing only 0.33 points behind Yuzuru Hanyu. He has been called a "philosopher on ice" because of the emotional depth of his expressive abilities and his unique worldview. Machida retired from competitive skating following the December 2014 Japan Figure Skating Championships. Presently he conducts research as a Waseda University graduate student.  His research interests include sports management, sports culture theory, sports economy, and physical performance art theory.  He received top awards at the 2017 Japanese Society of Management for Physical Sport and Education and Japan Association for Cultural Economics. He is active as a lecturer at Keio University and Hosei University, a professional figure skater, choreographer, and commentator.
Interviewer: Yuta Hagiwara
Yuta Hagiwara was born in 1983. He is a producer, playwright, writer, and leader of Kamome Machine. He began his theatrical activities as a student at Waseda University.   He has won several awards including the 13th AAF Drama Award from the Aichi Arts Revitalization Initiative, the 2016 Toga Theatre Contest top producer award, and the top award at the Asakusa Kid Hongyo Reading Impressions Contest. He has appeared in Kamome Machine works as well as plays by Natsuko Tezuka.
Photography: Hajime Kato
Editor: Camp Masaru Yokota
Interview and photography assistance: Waseda University Tsubouchi Memorial Theatre Museum
English translation: Joachim Muntal