Are you interested in environmental issues?
Would you like to interact with various students in English and Japanese? If yes, this event is a perfect chance for you!
Let's talk with various students on the theme of environmental issues!
Of course, the participants of the event are also welcome to interact freely!
In the event, we will also introduce the "eco-candle relay" that Japanese university students are collaborating with. Sustainability is one of the themes of the Tokyo Olympics and Paralympics. We will introduce the relationship between Tokyo Olympics and Paralympics and sustainability too.
Even if you are interested in the environmental issues but are not familiar with them, please come to this event!
We will give the candle made from wasted oil, if you participate the event!
You can enjoy the candle by lighting it or decorating it in your room♪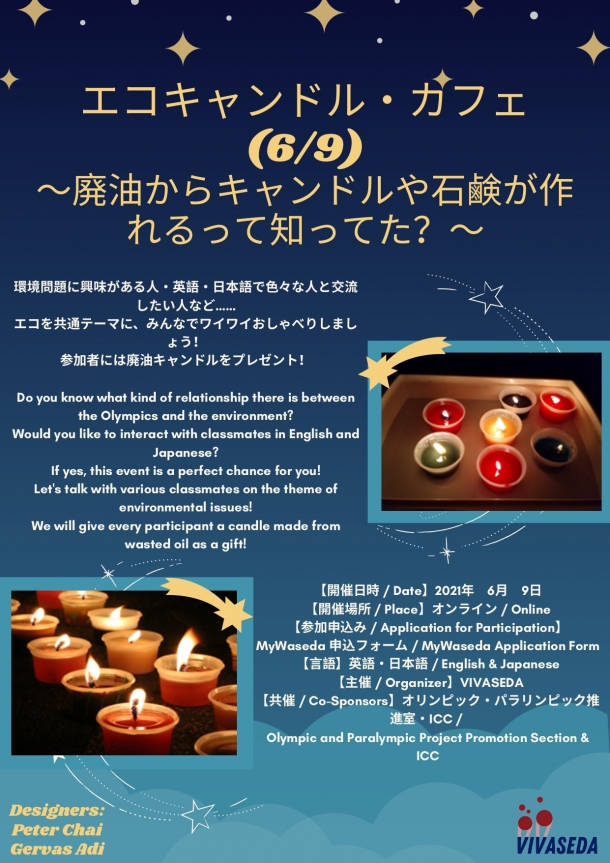 【Date & Time】
June. 9 (Wed.) 4:30pm-5:30pm
【Place】Online (via Zoom)
*The Zoom URL, instructions, etc will be sent to your email address before the event.
【Eligibility】
Waseda Students
【Fee】Free
【Apply Form】
https://my.waseda.jp/application/detail/application-detail?communityContentLinkId=391734531
【Deadline】
June. 3(Thu), 9:00am
【Capacity】
15 people (If there are a large number of applications a lottery will be held to decide participants, with the results announced on the deadline day)
【Organizer】VIVASEDA
【Cooperation】Waseda Olympic and Paralympic Project Promotion Section / ICC
【Contact】[email protected]